Search for Australia's Everyday Star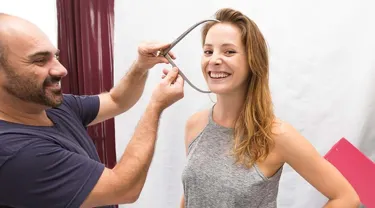 Never before seen in the global brand's 250-year history, Madame Tussauds Sydney is holding a competition, open to all Australian residents, which will give one lucky Australian the chance to have their own wax figure created – an honor traditionally reserved for celebrities – and displayed alongside the figures of the world's biggest stars including Justin Bieber and Angelina Jolie.  
To enter the once-in-a-lifetime search, entrants must upload a picture to Madame Tussauds Sydney's Facebook page of the family-friendly pose they'd like their figure to have using the hashtag '#SydneyWaxSearch', as well as their hair, eye colour and height.
Entrants must also be wearing the clothes they'd like their figure to wear which they will be required to donate. The winner must also be available to participate in a 4-hour sitting with Madame Tussauds artists, just like a celebrity would and participate in ongoing marketing and public relations activity.
Given the interactive nature of the brand, Madame Tussauds Sydney is also asking entrants to nominate what phrase they'd like their figure to 'say', with an emphasis on traditional, family appropriate Australian sayings. Examples could include, 'Ya Flamin' Galah!' or 'Struth Mate!', courtesy of Australian soap icon and Madame Tussauds wax figure, Alf Stewart.
The winning, talking figure will then go on display in Madame Tussauds Sydney's History Zone alongside the wax figures of Australia's most famous politicians and historians, including Bob Hawke and Captain James Cook.
Madame Tussauds Sydney General Manager, Mark Connolly, said the attraction was investing heavily in this Australian-first competition and the winner would join the esteemed world of famous, wax fun.
"Every Madame Tussauds wax figure takes a dedicated team of artists more than 4-months to create and is traditionally only offered to the world's – and Australia's – biggest stars," said Mr Connolly.
"However, the ethos behind Madame Tussauds Sydney is about embracing the Australian spirit, so we thought what better way to embody that than to open it up to the Australian public to throw their hats in the ring to be immortalised in wax."
We want to also encourage entrants to be creative so the more 'you' your entry is, the better!
To be eligible to enter the search for 'Australia's Everyday Star', participants must:
Upload a picture of themselves in their intended wax figure's outfit and subsequent post to the Madame Tussauds Sydney Facebook page by 1 May, 2017 using the hashtag #SydneyWaxSearch
Include their hair, eye colour and height with their entry
Be willing to dedicate 4-hours to participate in their Madame Tussauds sitting and offer creative assistance where necessary when deciding the 'look' of their figure.
Be available for ongoing marketing and public relations activity
Outline what you'd like your figure to say – please keep this family friendly!
Entrants must be over the age of 18
Don't forget to check out our Facebook page - facebook.com/MadameTussaudsSydney