Sitting with a Celebrity: The Making of a Wax Figure
Wednesday 10th April 2019
wax figure, behind the scenes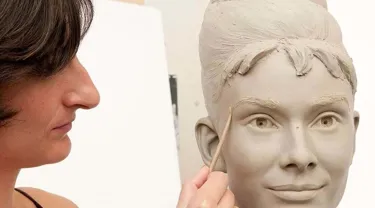 Many tourist attractions come and go, but Madame Tussauds has been in business for nearly two centuries, with the very first museum opening in London in 1835. Since then, we've expanded around the world, opening Madame Tussauds Sydney in 2012.
The Real Madame Tussaud
It might surprise you to learn Madame Tussaud was a real person, born in France in 1761. She worked with renowned physician, Philippe Curtius, making anatomical wax sculptures of organs. It sounds gory, but her talent was exceptional, and the beauty was in the detail. Wax models needed to be realistic, or there could be life or death consequences. Madame Tussaud eventually inherited the entire collection of wax body parts, death masks and lifelike copies of the heads of politicians and royalty; some of whom had lost their heads during the French Revolution. With a good head for business, she shipped the whole lot off to London and opened the very first Madame Tussauds Wax Museum. It was a time before photography was commonplace, so people had no idea what famous people looked like! They flocked in their thousands to stare at Marie Antoinette, Robespierre and other notable names of the era.
How It's Done
Stage One of making a wax model takes 800 hours. That's over a month! First come the measurements; hundreds of them, from the length of the eyebrows to the width of the nostrils. The skeleton is created from metal, then the model of the head is shaped with clay. At this point, the model looks nothing like your favourite celebrity (even without makeup). Lastly, it's time to get busy moulding with the hot wax. 
It Won't Happen Overnight
Stage Two is where the detail begins. Teeth and eyes are added to the model, and then it's all about skin and hair. You probably have a vague idea of your favourite celebrity's hairstyle; short or long, blonde, red, or curly. But to a Madame Tussaud artist, every hair matters. Each strand is individually inserted into the scalp of the wax model, in a process which takes up to 5 weeks to complete.
Up Close
Next comes makeup, using brushes that are quite similar to your makeup brushes, except they're used to apply layers of oil paint. As the colour builds up, tones are adjusted for an exact match with the subject's skin. If only it were this easy to achieve a perfect complexion!
The Unmentionables
We always get asked about celebrities' 'private' measurements. The answer is simple. Yes, we do know many of the vital statistics. And no – we won't share. We respect their privacy, and we wouldn't want to disappoint you anyway.
Moving Parts
Madame Tussauds is moving into the future, which means your visit is no longer a static experience. Our figures now feature moving parts; see Superman heave and lift a helicopter. Then there's everyone's favourite, Rebel Wilson, who will talk to you as you approach, using a motion sensor. Who knows what moving figure will be arriving next?!
From humble beginnings, Madame Tussauds has grown into a popular international tourist attraction: Hong Kong, Shanghai, Washington, Berlin, and other cities around the world. In 2012, Madame Tussauds Sydney opened its doors, soon becoming one of the city's top spots. From international sporting stars to a who's who of Sydney, come and meet your favourite celebrities face to face.