Superfans meet Jay Chou!
Friday 10th July 2020
jay chou, superfans, mandopop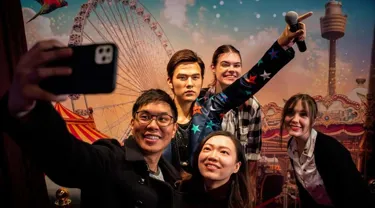 The life-size replica of the influential Asian entertainer, producer and star of 2011's The Green Hornet has made its debut at Madame Tussauds Sydney - three months ahead of his sold out CARNIVAL world tour, and just in time for the school holidays.
Dressed in a distinct star-studded suit, the figure stands strong in front of a Carnival-inspired Sydney backdrop while holding a microphone, as though he were performing to a stadium full of screaming fans.
And just like the fans at his sold out tours, a handful of self-professed 'hardcore Chou followers' could hardly contain their excitement today when they were among the first to welcome the figure to Madame Tussauds Sydney, saying it was "as exciting as meeting the real Jay Chou".
"Looking at him, I feel he looks a lot like his pictures. He's so real!" gushed Kiera Lewicki, one of the hardcore fans.
Jay Chou, who got up close and personal with his lifelike double back in 2013, described his wax figure as the "perfect portrayal" of himself. And it seems his fans agree.
Jay Chou's wax figure took 800 hours and 60 of Madame Tussauds' most talented sculptors and artists to handcraft. Using techniques perfected over the 250 year tradition of Madame Tussauds, quite literally hundreds of measurements were meticulously taken, including the width of the his eyes, the length of his fingers and the breadth of his face, with each individual hair – including the eyebrows – inserted strand-by-strand.
Jay Chou's wax figure will be available to see at Madame Tussauds Sydney until September. Fans do not want to miss this VIP Mandopop experience!