Sydney Must See: Cool Street Art & Interactive Art
Tuesday 21st January 2020
sydney, art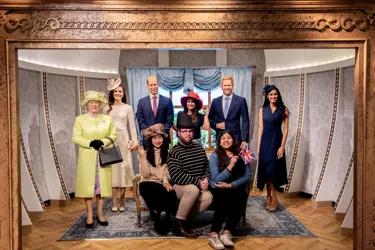 Who says art is just for adults? From the coolest street art to innovative interactive art, check out this list of must-see displays the whole family will enjoy.
The Bondi Beach Sea Wall
That's right, Sydney's famous beach has more than, well, the beach! Along Bondi's shoreline lies a concrete pathway by this long, mural-clad wall. The constantly changing mix of funky, fresh street art has been around since the 70s with strong social messages. It's a fun way to spark conversations. Grab a Sydney smoothie or gelato for the ride and take your sweet, sunny time! A post-art ocean dip is mandatory, of course.
Beautiful 'Bara'
To be unveiled in 2020, 'Bara', by Aboriginal artist, Judy Watson, celebrates the traditional custodians of the Gadigal Country, which we now call Sydney. The large crescent-shaped Bara is the fish hook crafted and used by Gadigal women, a shape that will remind you of the moon; arching around Sydney Harbour. The Sydney must-see is right by the Opera House and Royal Botanic Gardens. Picturesque picnics and strolls ahead!
Forgotten Songs
His mesmerising canopy of 180 bird cages is found above a Sydney CBD alleyway, aptly named Angel Place. This art installation is not only pretty, but it also has a beautiful meaning behind it. Forgotten Songs commemorates the song of 50 birds once heard in central Sydney before European settlement. The calls change from day to night, replicating daytime and nocturnal birds.
In Between Two Worlds
Tucked away in Chinatown is this otherworldly lane of wall and floor murals, and suspended 'spirit figures' glowing in blue. This street art represents wind, water, fire and earth; elements that are said to have their own spirit in Chinese and Aboriginal culture. It's a moving work of art to stumble upon when exploring new foods and culture within the vibrant precinct.
Wax Figures: A Labour of Love
Did you know it takes over 800 hours of painstaking moulding, measuring, painting and sculpting to create a Madame Tussauds wax figure? Madame Tussauds' sculptors are so skilled that if you'd bump into these figures, you'd say sorry before realising they're crafty replicas of the Hemsworth Brothers and Nicole Kidman!
Around the world, Madame Tussauds has attracted millions of people through its doors for more than 200 years. The Sydney must-see attraction is especially fascinating because it showcases local celebrities, sports stars and heroes. There's more than just rubbing shoulders with the famous. Beyond the visual art of pop culture, Madame Tussauds Sydney is an interactive adventure.
Whether you're a parent or a toddler, a tween or teen, there's something for everyone at Madame Tussauds Sydney. Dress up and curtsy with The British Royal Family. Save the world with Justice League. Become a Bollywood superstar on the dancefloor. Hurdle with legendary Sally Pearson. There's so much more to discover at Madame Tussauds Sydney. Belly laughs included – because art can (and should) be fun!
Check out Madame Tussauds Sydney's full list of must-see's.