When Tim Cahill met Tim Cahill in our All-New Sports Zone
Tuesday 5th January 2016
tim cahill, sports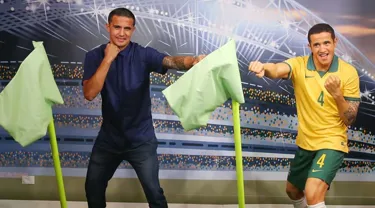 When meeting his wax figure for the very first time, Tim Cahill commented, "Coming face-to-face with myself in wax form was a really special moment for me – it's an incredible honour. The resemblance is uncanny - the team at Madame Tussauds have done an outstanding job to make my wax figure as lifelike as possible."
The world first wax figure portrays Tim's iconic corner-flag celebration at the 2014 FIFA World Cup finals (Australia v Holland), whereby the Socceroo legend scored a memorable left-foot volley, which earned him worldwide applause. Tim donated his entire outfit including customised 2014 kit, as well as boots, shin guards and tattooed sports tape.
Uniquely honoured by Madame Tussauds Sydney for being at the top of his field, Tim Cahill is currently playing for Shanghai Shenhua in the Chinese Super League and the Australian national football team the Socceroos, where he is the all-time top goal-scorer. On June 12, 2006 he made history by scoring the first two goals by an Australian in a FIFA World Cup finals match against Japan and has scored five World Cup goals in total across three tournaments.
Madame Tussauds Sydney are grateful to all the children who attended today's event, and for making it very special for the day 'Tim met Tim'.