The Famous Australian Women at Madame Tussauds You Should Meet
Thursday 4th July 2019
women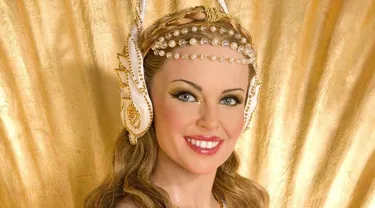 Before you visit Madame Tussauds Sydney, why not get to know 4 of our extraordinary female Australian legends a little better. Here are some short profiles on 4 leading ladies.
CATHY FREEMAN
Born in Queensland, on February 16, 1973, this track superstar was a natural athlete with big ambitions. When questioned by a career advisor, a 14-year-old Freeman replied, 'I want to win gold medals at the Olympic Games.' At 16 she won gold at the Auckland Commonwealth Games, then went on to become the first Aboriginal medalist at the 1996 Atlanta Games, before taking home back-to-back world championships in 1997 and 1999. By the Sydney 2000 Olympic Games, Freeman was 27 and thriving; lighting the Olympic cauldron, she ignited her way into history. Freeman's race is etched into the memory of most Australians; fourth out of the blocks, she propelled herself ahead of the competition in the straight. Carrying the nation's hopes, as well as 200 years of history on her shoulders, she won gold in the 400m final. Draped in the Australian and Aboriginal flags, her victory lap remains an iconic image.
JULIA GILLARD
Born in Wales on September 29, 1961, Gillard's family joined the post-WWII emigration from Britain to Australia in 1966. Calling Adelaide home, she attended the University of Adelaide, where she joined the student government. In 1983, Julia continued her studies at the University of Melbourne; becoming president of the Australian Union of Students. Holding degrees in law and arts, she joined a private law practice in 1987 where she eventually made partner, specialising in industrial law. Gillard's political career kicked off in the late 1970s; aligned with the ALP's Socialist Left faction. Advancing through the ranks, Gillard went on to challenge Rudd's leadership, eventually becoming Australia's first female Prime Minister from 2010-2013.
KYLIE MINOGUE
Born in Melbourne on May 8, 1968, Kylie began her career at an early age on Aussie TV series like 'The Sullivans,' 'The Henderson Kids' and 'Neighbours.' Mushroom Records gave The Pop Princess her big break, with the hit 'The Loco-Motion,' which went on to become Australia's highest-selling track of the 80s. There must be something in the family's water because her younger sister, Dannii Minogue is also an international star. This Grammy Award-winning talent experienced a massive resurgence with her #1 single, 'Can't Get You Out of My Head,' in 2001. Kylie has also appeared in films such as 'Moulin Rouge', and her iconic and dynamic performances have made her a worldwide sensation.
REBEL WILSON
Born in Sydney on March 2, 1980, Rebel burst onto the scene with belly-splitting performances on stage and TV. Getting her big break in the USA with the 2011 hit 'Bridesmaids,' Rebel then went on to secure her place as funny lady, playing the vocal-loving Amy in the musical comedy Pitch Perfect films. A flurry of films like 'Bachelorette', 'What To Expect When You're Expecting' and 'Isn't It Romantic' followed. Rebel is a woman of many talents, she's hosted the MTV Music Awards, gained a law degree, been a spokesperson for Jenny Craig and produced a plus-sized fashion line.
There are many more remarkable women (and men!) to see at Madame Tussauds, so come and meet them today.