Troye Sivan's first and only wax figure is unveiled in Sydney
Friday 11th December 2020
Sydney Live, troye sivan, mtv music, chinese new year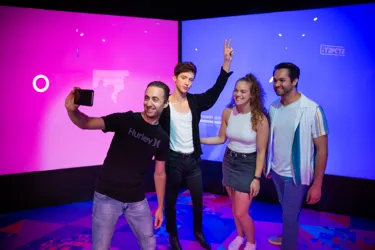 Forty of Troye Sivan's biggest fans were among the first to see his wax double during an exclusive gathering last night inside our new music zone- Sydney Live.
Fans received a special treat when the Aussie star's parents – Laurelle and Shaun Mellet – Facetimed into the event from Melbourne where they are currently spending quality time with their son. 
'It's the crystal blue eyes and perfectly chiselled face for me', were among the compliments shared by enthusiastic fans after the curtain pulled back to reveal the 1.73m lookalike.
Troye Sivan spent hours working with Madame Tussauds' team of artists and posed for numerous photos to help mould the figure mirroring his look circa 2018 and 2019. The figure wears a donated white singlet, cuffed black shirt and trousers as worn by Troye in the My, My, My music video and pairs them with his wavy chestnut brown hair, a silver nose ring, black boots, a gold Cartier style ring and an engraved silver signet ring.
As though wrapping up a sell-out concert, Troye Sivan's wax figure stands tall with one hand throwing a peace sign in the air while the other casually holds a microphone by his hip.
To amplify the Troye experience, his figure launched last night with an all new interactive experience that puts users in the director's seat. Fans can adjust the backdrop, add lighting and more to create their very own album cover art, take the stage as the headline act and rock out in the crowd. Guests can be bold with colours and patterns or be mysterious with shadows and lighting as they take total creative control to get the perfect shot!
"I am absolutely blown away by my wax figure at Madame Tussauds Sydney," said Troye Sivan. "I never thought this would happen, ever. We spent ages holding up little samples of eye colours to my eyes to make sure they were just the right colour. It's amazing, go check it out!"
"My, My, My Troye Sivan is looking good inside Madame Tussauds Sydney," said Richard Dilly, Madame Tussauds Sydney's General Manager.
"We're incredibly excited and honoured to have his first and only wax figure and to have him headline our brand-new music zone – Sydney Live! We're grateful for the time Troye dedicated towards working with our team of artists that allowed them to create this lifelike figure – we know fans will appreciate the end result and they'll love its interactive element."
Troye Sivan's figure graces the entrance of our new music zone – Sydney Live. The new space immerses visitors in the world of live gigs with a concert floor and crowds rocking out under the lights. It's the perfect spot to party with mates and meet favourite Aussie and Global superstars from Lady Gaga to Pink and Keith Urban.
To celebrate the arrival of Troye Sivan and the new Sydney Live space, we have teamed up with JMC Academy to host live music during opening weekend. Eight local musicians enrolled in Sydney's leading music college will take the Sydney Live stage to perform 20-minute sets on 12-13 December, covering tracks by one or more of Madame Tussauds Sydney's music wax figures, including Troye Sivan, Katy Perry, Adele and more.
Watch the unveiling video below!