Virtual Fashion Week at Madame Tussauds Sydney
Tuesday 29th June 2021
fahsion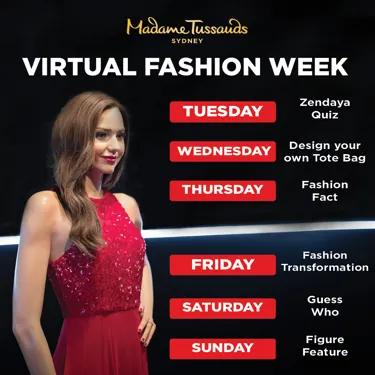 Last week we launched our newest figure, actress and international fashion icon, Zendaya! To keep the fashion going this lockdown we are bringing you Madame Tussauds Sydney's very first 'Virtual Fashion Week'. 
Taking place on our Facebook & Instagram every day, get ready for a fabulous week full of all things glitz & glam including fashion transformations of your favourite celebs, exclusive figure facts and more. PLUS! There will even be downloadable activity sheets for you to to channel your inner fashion designer from the comfort of your own home. Be creative, be bold, be YOU!
This is your official program and all-access pass…enjoy the show! 
Stay tuned to this page for daily updates.