Wax Figure of Bob Hawke Remoulded to Hold a Tinnie
Thursday 7th December 2017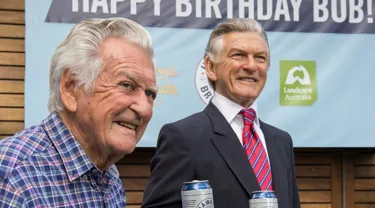 Hawke's Brewing Co. & Madame Tussauds Sydney present the former Prime Minister with a birthday gift he's sure to raise his hand to!
In an Australian first, Hawke's Brewing Co. has collaborated with Madame Tussauds Sydney and remoulded the wax hand of former Prime Minister, Bob Hawke so that he can hold a can of his own beer, Hawke's Lager.
The remoulded hand of the iconic Australian has been taking shape for over a month inside the creative studio at Madame Tussauds Sydney and was revealed to Mr Hawke at an invite-only birthday celebration at The Clovelly Hotel this afternoon, two days before his 88th birthday.