Wax Glenn steps in as Glenn McGrath 'stunt double' at the SCG for the 14th annual Jane McGrath Day!
Monday 10th January 2022
Cricket, Australian, Glenn McGrath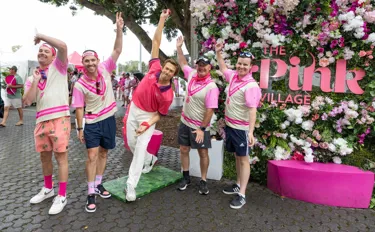 With the news that Glenn McGrath couldn't attend the Pink Test, his Madame Tussauds Sydney figure stepped up to the occasion!
SYDNEY, Australia – Friday 7th January 2022 – When the team at Madame Tussauds Sydney heard that Glenn McGrath wasn't able to attend the Pink Test at the SCG in person this week, they knew they had to step in, and deliver the next best thing – his Madame Tussauds figure!
Wax Glenn welcomed guests for the 14th annual Jane McGrath Day at the Vodafone Pink Test to raise funds for the McGrath Foundation. Jane McGrath Day celebrates Jane's legacy and raises funds for McGrath Breast Care Nurses to support individuals and families going through breast cancer.
"Jane McGrath Day just isn't the same without Glenn. He was so disappointed not to be here, but thanks to our friends at Madame Tussauds we've got the next best thing!" Tracy Bevan, Ambassador & Director, McGrath Foundation said.

"We're obviously very disappointed that Glenn can't be with us today, but our friends at Madame Tussauds Sydney have helped ensure he still has a presence with us on Jane McGrath Day by bringing "Wax Glenn" out for the day. For that, we say thank you!" McGrath Foundation CEO Holly Masters said.
 
"Wax Glenn is very excited about his big day out!," said Mikayla McGlone, Studios Manager at Madame Tussauds Sydney