We are celebrating Marie Tussaud this International Women's Day!
Friday 6th March 2020
women, marie tussaud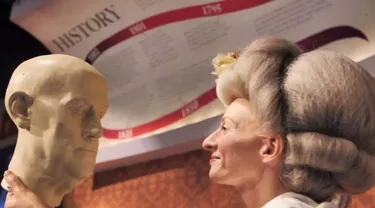 This year's International Women's Day theme is recognises equality and we're celebrating by paying homage to none other than our namesake – Miss Marie Tussaud.
Marie Tussaud was one of the first ever female entrepreneurs, starting her career in the 1700's – she was an artist, businesswoman and a marketing genius.  
Born in December 1761, her early life was spent first in Bern and then in Paris, where she learned the art of wax modelling. Much of her fame had more to do with death masks and torture devices than art but that's potentially what saved her life. According to her memories, as a forced show of her loyalty to the French Revolution, Marie Tussaud had the gruesome task of creating death masks of the heads (sometimes of her own friends) freshly served by the guillotine. This included her employers King Louis XVI and Marie Antionette.
While Tussaud herself didn't invent the death mask, she was the first to commercialise the artistic creation on a huge scale. In 1802, after the conclusion of the French Revolution and following the breakdown of her marriage, Tussaud moved to England where she toured the British Isles with her wax creations for 33 years before finally establishing a permanent home in Baker Street, London. From a humble travelling exhibition grew an amazing empire and 'Madame Tussauds' remains a household name today.
Madame Tussauds attractions operate in over 24 world-class venues around the world from New York to Sydney and of course London. Welcoming over 10 million guests through the world-famous doors every year!
Madame Tussauds Sydney boasts the figures of local and international celebrities and legends including: Bob Hawke, Queen Elizabeth II, Einstein, Dawn Fraser, Sally Pearson, Kylie Minogue, Captain Marvel, Chris and Liam Hemsworth and Nicole Kidman.