We're pausing work on Malcolm Turnbull's Figure
Friday 17th August 2018
Grease, sandy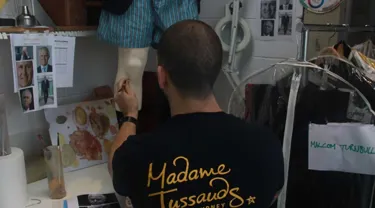 Breaking News: In light of the current political landscape, Madame Tussauds Sydney has announced that their studios team have stopped work on their latest wax creation - the figure of Malcolm Turnbull.
Madame Tussauds Sydney's General Manager, Mark Connolly says, "Malcolm Turnbull was set to be the next figure to take the stage in our World Leader's room but in light of Mr Turnbull's fresh leadership challenge, we have advised the studio team to postpone work and save the wax.
"This isn't the first time we've made the decision to stop creating a political leader due to their premature exit from office. In 2013, just weeks after work began creating Kevin Rudd's figure, the team were advised to stop work. Again in 2015, when Tony Abbott was voted out by his fellow MPs, we made the decision to stop work.
"We want to ensure our World Leaders room remains current and relevant to our local and international guests – and not a room full of retired Prime Ministers, which has prompted our decision to stop work on leaders once they're out of power, we hope there are no hard feelings."
Current figures of prominence in the World Leaders room include ex-Prime Ministers Julia Gillard, John Howard, Bob Hawke as well as Queen Elizabeth II, Einstein, Nelson Mandela and Ghandi.