What is there to do in Darling Harbour Today?
Wednesday 16th January 2019
things to do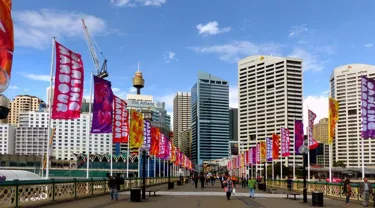 There is no way you could ever get bored in Darling Harbour, even just going for a stroll along the glistening harbour-front, soaking up the atmosphere is a thrill. There is an array of bustling restaurants and bars and watching the famous street artists perform and entertain is always a treat. But there is so much more than just that to do. So, if you're wondering, what else there is to do in Darling Harbour, then you've come to the right place. We've put a list together for you that will entertain and delight during your Sydney visit.
Darling Quarter
Darling Quarter is a must visit destination when visiting Darling Harbour, it is a mecca for dining and entertainment and boasts a very cool children's playground with flying fox, climbing net and fun water features. It is the ideal place for the whole family to spend a few hours as parents can grab a coffee, sit and relax while their kids blow off some steam. Or, you could have something to eat from one of the many restaurants that are nestled around the playground. Whether you fancy a Brazilian BBQ, sushi, Thai, or a traditional pub lunch, your taste buds with be tantilised at Darling Quarter.
Have Breakfast with the Koalas
Yes, that's right, you can have breakfast with the koalas in Darling Harbour! When you purchase the Breakfast with Koala's experience at WILD LIFE Sydney Zoo, you can enjoy a delicious hot buffet breakfast at their open-air Koala Rooftop cafe in the company of adorable koalas. After breakfast, you can get up close and personal with them while you get your picture taken that you can take home as a momentum. The encounter also includes access to the rest of Darling Harbour's Sydney Zoo, a guided tour of the attraction with an experienced keeper and an informative koala talk.
Chinese Garden of Friendship
If you'd like to escape the hustle and bustle of the city for a little while then head over to the Chinese Garden of Friendship. Walking into the gardens is like stepping back in time to a tranquil seclusion of ancient Chinese architecture. You'll be surrounded by towering willow trees, exotic plants, cool lagoons filled with colourful koi carp and water dragons skimming the surface, plus many sculptures, cute pavilions and waterfalls. The Gardens are a truly magical place, perfect for relaxing and recharging your batteries. If you're feeling peckish, you can grab yourself some dim sum and a pot of Chinese Tea from the Teahouse.
Get up Close to Penguins on the Penguin Expedition Ride
Jump on board a boat and enjoy this world first, sub-Antarctic, ride-through penguin experience at SEA LIFE Sydney Aquarium. You will travel through the King and Gentoo penguin colony and get closer to the majestic creatures than you could ever dream of getting in the wild. You will experience the thrill of the Antarctic as you journey through falling snow and whistling winds. There is no other ride in Australia that will allow you and your family to get so close to these beautiful animals.
Help the Justice League Save the World
Madame Tussauds is calling for all heroes to come and help The Justice League save the world! In this Darling Harbour interactive experience, you'll come face to face with your favourite superheroes including Batman, Superman, Wonder Woman and more. Help Superman lift a falling helicopter, summon Batman with the Bat-Signal, and fire gauntlet blasts with Wonder Woman to destroy LexCorp's evil technology.