World First Tim Cahill Wax Figure to Feature in All-New Sports Zone
Tuesday 24th November 2015
tim cahill, football, soccer, sports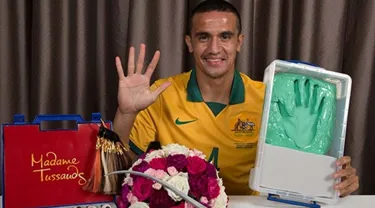 "We are thrilled to welcome Tim's Cahill's world-first figure to the all-new Sports Zone here at Madame Tussauds Sydney. Tim is one of Australia's greatest soccer players and I have no doubt his amazingly lifelike wax figure will be extremely popular with our guests, particularly the local Chinese community," said Steve Hinks, General Manager at Madame Tussauds Sydney.
Cahill is currently playing for Shanghai Shenhua in the Chinese Super League and Australian national football team the Socceroos, where he is the all-time top goal-scorer. On June 12, 2006 he made history by scoring the first two goals by an Australian in a FIFA World Cup finals match against Japan and has scored 5 World Cup goals in total across 3 tournaments.
From December, the all-new Sports Zone will become one of the attraction's biggest yet, featuring 20 figures including three new Aussie sporting legends and two international superstars. Along with five new figures, Madame Tussauds Sydney's Sports Zone will feature all new interactive experiences to help bring Australia's iconic sporting moments alive, including stadium screens, fun props and much more.