Young Boy With a Dream 'Meets' Idol in World-First
Wednesday 8th November 2017
chris hemsworth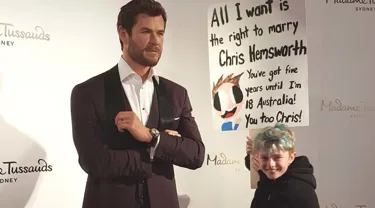 Today, Madame Tussauds Sydney unveiled the world-first wax figure of iconic Aussie actor and Hollywood superstar, Chris Hemsworth in the Darling Harbour attraction. To mark the occasion, a young Sydney boy with a dream to marry the iconic celebrity was the first to 'meet' his idol and give his tick of approval.
Thirteen-year-old Max Townes first won the hearts of the nation in September 2017 when he marched for marriage equality and 'the right to marry Chris Hemsworth'. As people around the world backed the boy's dream tweeting #MaxMeetChris, it was Madame Tussauds Sydney who made #MaxMetChris a reality.
"It's very cool to be the first," said Max of having the exclusive-look at his idol 'in the wax'. "You get to stand next to him and tell everyone, 'Hey, guess who I met!'"
The wax figure is a world-first and has landed in Sydney to meet and greet his guests from today, in the all-new interactive PARTY Experience in the Darling Harbour attraction.
Created over the course of six months, the striking 6"3 figure is the masterpiece of a skilled and dedicated team of over one hundred sculptors, artists and stylists. Each individual hair was inserted strand by strand, taking almost three months alone!
"When the team from Madame Tussauds Sydney approached me with the idea, I thought it would be pretty fun - and it was!" said Max's mother, Megan Townes. "Every kid, and many adults, have a celebrity crush, and Chris Hemsworth is his. Since getting his exclusive first-look at the new figure, it's been impossible to wipe the smile off Max's face."
"It's a really exciting day for Madame Tussauds Sydney as we launch the world-first wax figure of Chris Hemsworth," said Mark Connolly, General Manager Madame Tussauds Sydney. "Chris Hemsworth is an iconic Australian actor and our guests have long been requesting that we add him to the family. We wanted to give back to our guests and after six months in the making we're blown away by Chris' figure and know our local and international visitors will be too."
Like all figures, Chris was made at Madame Tussauds' central studios in London, before arriving in his homeland of Australia ahead of his big debut.
From posing with the stars and experiencing the all-new immersive features,  Madame Tussauds Sydney is open daily from 9.30am and promises start-to-finish fun for the whole family in the heart of Sydney's CBD in Darling Harbour.