2x Grammy Award-Winning Global Superstar Bad Bunny Celebrates Two New Wax Figures
Tuesday April 19th 2022
Bad Bunny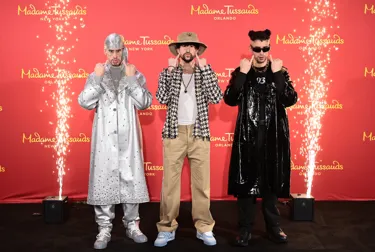 Madame Tussauds latest wax figure reveal had attendees seeing double. 2x Grammy Award-winning Latin singer-songwriter and producer, Benito Antonio Martínez Ocasio, better known as Bad Bunny, revealed his two new wax figures today at Madame Tussauds New York - Times Square. The world's greatest wax museum celebrated the reveal with a side-by-side photo session of Bad Bunny and his figures. One figure will stay at the Times Square location, while the other will make its way to its permanent home at Madame Tussauds Orlando.
"Bad Bunny is one of the world's biggest stars; his incredible vocal talent and skills as an entertainer have led to a massive fan base around the globe. The figures in Orlando and New York City will allow his faithful fans to get up close and personal with him in a way that's only possible at Madame Tussauds," said Madame Tussauds Head of Marketing, Matthew Clarkson.
Fans will instantly recognize the New York City figure's signature pose, selected by Bad Bunny himself. The figure at Madame Tussauds New York is wearing the iconic all-silver look from his 2020 Super Bowl performance alongside Jennifer Lopez, Shakira, and J Balvin, including the actual silver jacket. Upon entering the "Music Room," guests will be greeted by Bad Bunny and surrounded by the sounds of his infectious discography. As the headliner of the last space in the attraction, Bad Bunny's wax figure is sure to leave a lasting impression on every fan.
The figure in Orlando is wearing an outfit originally from his WWE Royal Rumble performance and is featured in his "Booker T" music video. The trenchcoat, vest, trousers, and pants were also donated by Bad Bunny. Guests will step into the ultimate fiesta with exclusive soundbites from "El Conejo Malo." The experience will surround Bad Bunny's fans in colorful neon lights and immerse them in the vibrations of his reggaeton hits. 
Bad Bunny worked closely with the Madame Tussauds studio artists in London to perfect both of his custom wax figures. The studio artists took approximately 200 measurements and photographs from every angle during each of the singer's sittings to capture his exact features, followed by meticulous detailing, sculpting and months-long visual research. Each Madame Tussauds figure takes approximately six months to create. 
For two years running, Bad Bunny has held the title of most-streamed artist in the world on Spotify. Bad Bunny is an icon and one of the most sought-after artists around the world. Madame Tussauds will offer his fans a chance to get up close and personal to their favorite musician with no ropes or barriers. Fans can now snap selfies with Bad Bunny's first figure at the Madame Tussauds New York location, while his second figure will arrive at Madame Tussauds Orlando later this month.