A 'SUPER' STAR IS BORN! MADAME TUSSAUDS AND MARVEL CHOOSE RENEE FRANGIONE OF NEW YORK TO APPEAR IN NEW 4D FILM ROLE!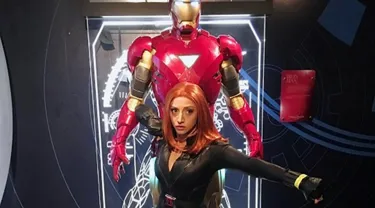 Madame Tussauds New York announces, Renee Frangione, 35, from New York City will play an exclusive role in its new global Marvel 4D film experience, premiering next year (2020).
The Marvel 4D film experience is an immersive attraction at Madame Tussauds, which brings to life the legendary Marvel comics using 3D film technology and thrilling sensory special effects, including wind, water and smell. The film has been created by one of the world leaders in CGI feature films and 4D attractions, Pure Imagination, working in close collaboration with Marvel.
Dressed as her favorite Marvel Super Hero, Black Widow, Frangione, won over the judges with her convincing performance, demonstrating passion and enthusiasm as she delivered the winning lines with Marvel dramatic flair.
The Marvel fan wowed during the auditions and was personally picked by Chief Creative Officer of Marvel Entertainment, Joe Quesada beating over 150 auditionees, who took part in the global auditions.
Frangione will now get to star alongside some of Marvel's greatest comic book characters including The Hulk, Thor, Captain Marvel, Captain America, Iron Man, Black Panther and Spider-Man.
"Renee gave a winning performance in her audition at Madame Tussauds in New York, delivering her lines perfectly with lots of charm," said Joe Quesada, Marvel Chief Creative Officer and comic book artist. "While there was a very strong line-up of finalists, Renee particularly stood out to me and the rest of the judging panel as having an undeniable Marvel talent."
"Reading Marvel comics, watching the shows and movies, you're invited to believe in superheroes. You're called to stand up for others, to dream and to play," said Renee Frangione. "The Madame Tussauds figures provide a literal life-size interactive experience and the 4-D movie makes us feel like we're part of the action. We're in the room as Spiderman web slings by. We feel their chair shift when Hulk crashes. We're part of the story. To be an actual character in that story is incredible!"
The 4D film experience can be found in The Marvel Super Hero Zone and brings to life the legendary Marvel comics using 3D film technology with additional thrilling special effects, including wind, water and smell.
"We are so pleased to work with Renee Frangione on this exciting Mavel 4D film" said Tom Middleton, General Manager of Madame Tussauds New York. "Renee demonstrated a true desire and excitement as soon as she walked in and we knew she'd be the prefect addition to this film." 
Learn more about Renee and her audition HERE!