ALESSANDRA AMBROSIO LAUNCHES ALL-NEW EXPERIENCE AT MADAME TUSSAUDS NEW YORK CHALLENGING GUESTS TO STRUT THEIR STUFF
Thursday December 5th 2019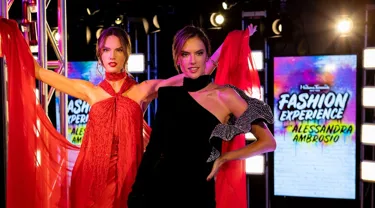 Madame Tussauds New York is bringing to life a never-before-seen Fashion Experience with the help of Brazilian supermodel, Alessandra Ambrosio. Guests now have the opportunity to take to the runway and strut their stuff with guidance and tips from Ambrosio herself in both English and Portuguese. Throughout the experience, a camera will be capturing guests' unique walks to share with friends on social media during their visit.
"Alessandra Ambrosio, who is loved and admired by many, has officially joined the ranks of strong memorable women to be celebrated in this way," said Brittany Williams, Spokesperson for Madame Tussauds New York. "As one of the most beautiful women in the world, Madame Tussauds New York is thrilled to welcome Ms. Ambrosio, to our Fashion Room."
Inside the Fashion Experience, in addition to Alessandra Ambrosio, fans can rub shoulders with fashion icons such as iconic supermodels Tyra Banks and Heidi Klum. They can also grab a front row seat for the show with celebrities like Anna Wintour and Kendell Jenner.
"It's an incredible honor to have Madame Tussauds create a wax figure of me," said Alessandra Ambrosio. "I'm thrilled to share my signature walk and runway tips with guests. I hope they're up for the challenge!"
In addition to being a top supermodel and fashion icon, Ambrosio is also a mother, designer and ambassador for the National Multiple Sclerosis Society. 
Fans and aspiring models from all over the world can learn how to dominate the runway with the help of Alessandra Ambrosio at the Madame Tussauds New York Fashion Experience. For more information about Madame Tussauds New York.
On Thursday's launch event, fans of Alessandra Ambrosio strutted their stuff on the runway, while being coached by Alessandra's encouraging words, and even got to take home a recording of their flawless catwalk footage! 
Check out who else is talking about this iconic figure: Life & Style Weekly, DailyMail, PageSix, Exame, Insider, Yahoo! and Inquisitr!