Bringing Back a Taste of Broadway
Thursday October 1st 2020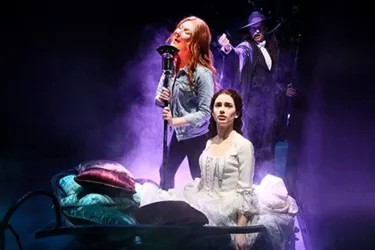 Attention Broadway Lovers: Each Saturday in October the Star-Studded Attraction Will Feature a New Broadway Performer. Live at 2pm from the A-List room balcony. 
Broadway, an integral piece of New York City culture, has been dark for many months now Madame Tussauds New York is bringing back a taste of Broadway every Saturday in October. The famed attraction kicked-off a series of Broadway performances from the balcony of its glamourous A-List room on October 10. Each Saturday will feature a new Broadway performer. The series began with Ali Ewoldt, who stars as Christine in The Phantom of the Opera on Broadway.
"Broadway is vital to our city. We hope that this taste of Broadway fills the room with excitement for the bright future we know lies ahead," said Mindy Clements, General Manager at Madame Tussauds New York. "This series of performances is a natural extension of our immersive and innovative Broadway experience which allows guests to see firsthand what it takes to make a Broadway show happen every night."
New for 2020:  The Tony Awards, Tony Tower
A Broadway experience wouldn't be complete without a front-row seat at Broadway's biggest night, the Tony Awards. The iconic Tony Tower will be a brand-new offering at Madame Tussauds New York beginning in October. This authentic piece of Broadway will provide guests with the perfect backdrop for their red-carpet moment.