Global Superstar Anitta Reveals Her Highly Anticipated Wax Figure
Thursday June 2nd 2022
Anitta, Brazil, Girl From Rio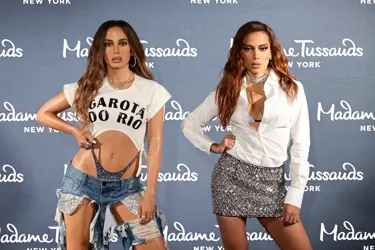 Get ready to meet the wax version of Anitta! Fans won't be "Faking Love" for this figure as they get up close and personal with the Versions of Me global superstar's wax figure that was revealed at Madame Tussauds New York - Times Square. The world's greatest wax museum celebrated the reveal with a side-by-side photo session with Anitta who also shared the news of the official launch of her figure with her 62+ million followers on Instagram.
"It's amazing to be a part of this project! At first I couldn't believe I was actually invited. I mean, I never thought that a wax figure of me could be next to some of the biggest stars ever at Madame Tussauds, in New York. A lot of hard work from the museum team came into this so I am very proud and excited for the world to see it", said Anitta.
The striking figure sports a short cut-off tee-shirt revealing toned abs and a bejeweled G-string, ripped jeans and denim pointed boots to complete the fashion forward ensemble. The entire look was worn and donated to Madame Tussauds by Anitta. Madame Tussauds studio artists worked closely with Anitta and her team of make-up artists and hairstylists to capture her exact measurements, hair color, eye color, tattoos, skin tone + complexion - dozens of detailed notes resulted in a meticulous match of the Brazilian beauty.
Each figure created by Madame Tussauds represents people who have reached the top of their field or made a significant impact on the world. As the biggest ever global female popstar to come from Brazil, and the first-ever Brazilian solo artist to take the mainstage at Coachella, Anitta is perfectly suited for the honor of receiving a wax figure. Since breaking through in Brazil seven years ago, the singer, songwriter, actress, dancer and businesswoman has gone on to become the leading artist of a new generation of Latin American music. Her fifth album, Versions of Me, dropped in April 2022 and was released in English, Spanish, and Portuguese.