Experience Your Worst Halloween Nightmare!
Tuesday October 3rd 2023
Warner Bros., Icons of Horror, Horror, Halloween, Overnight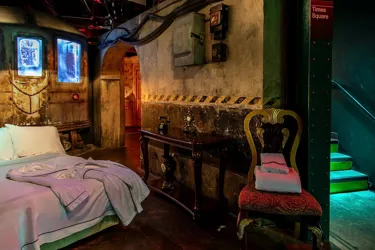 MADAME TUSSAUDS AND INTERCONTINENTAL HOTEL INVITE HORROR FANS TO EXPERIENCE THEIR WORST HALLOWEEN NIGHTMARE
Spend a Chilling Night Exploring Warner Bros. Icons of Horror and Slumber in a Haunted Times Square Subway Station – on Friday the 13th and Halloween
Get ready for one sleepless, horrific night! Just in time for the spooky season, Madame Tussauds New York and InterContinental New York Times Square are offering a chilling overnight stay at the entrance of Warner Bros. Icons of Horror, where fans will have the opportunity to privately explore the experience and get up close with some of the most iconic horror characters. The "room" is available on Friday, October 13 and on Halloween, Tuesday, October 31.
Before the real tricks begin, guests will be treated to drinks and a three-course dinner from InterContinental's room service menu, inspired by Warner Bros.' The Exorcist and New Line Cinema's The Conjuring Universe and IT. When the museum's doors close, the frightening overnight experience begins where guests will find their luxury accommodations materialized.
The experience dares guests to explore every corner of the immersive scenes recreated from Warner Bros. and New Line Cinema's horror films. Come face-to-face with possessed doll Annabelle in a child's bedroom tea party and The Nun from The Conjuring Universe. Survive the original possession that started it all, with Regan from The Exorcist floating above her bed – will you suffer the safe fate? And be terrorized by the dancing clown, Pennywise from IT, in the darkest and most run-down part of the Neibolt house.
Guest lodging in the eerie "subway station" provides a brief respite from the darkness, with comfortable accommodations including a fully stocked mini bar for those looking for some liquid courage.
The once-in-a-lifetime horrifying experience for two guests starts at $4,000 (exclusive of taxes) and includes:
● All-Inclusive tickets to the full Madame Tussauds experience during operating hours
● Private dinner inspired by Warner Bros. horror franchises
● Craft cocktails inspired by the very horror characters lurking next door
● Exclusive behind-the-scenes tour of the wax figure studio, led by the Madame Tussauds artists
● Custom-cast wax hands
● Personal photographer throughout the museum, including 10 professional photos
● Fully stocked minibar during the overnight stay
● Too chicken to make it through the night? A secondary accommodation at InterContinental New York Times Square serves as a swanky fallback plan
● Choice of breakfast the next morning at InterContinental New York Times Square's The Stinger Cocktail Bar & Kitchen or room service inside the guest's additional accommodation
When the lights go out and the doors are locked, what happens?! Pre-booking and stay customization must be organized at least five days in advance – horror fans can book their fa-boo-lous room now by calling 212-803-4580 or emailing ictsqsales@ihg.com to inquire.
###
About Madame Tussauds New York
Voted as one of New York's most unique attractions, Madame Tussauds invites you to pose "in a moment in time" with our famous fun figures of internationally renowned musicians, A-list stars, sports legends, world leaders and more. New for 2023, step onto the red carpet with Rihanna, Megan Thee Stallion, and more. Plus, Madame Tussauds New York's Glow Gala is packed with 20+ celebrities including wax figures of Ariana Grande, P. Diddy, Angelina Jolie, and some Kardashians. With more than 85,000 square feet of interactive entertainment, including the expanded MARVEL Hall of Heroes, the world-famous attraction is bigger and better than ever! For more information, visit the website at madametussauds.com/new-york/ and on Instagram and TikTok @MadameTussaudsUSA.
About Merlin Entertainments
Merlin Entertainments is a global leader in location-based, family entertainment. As Europe's number one and the world's second-largest visitor attraction operator, Merlin operates more than 140 attractions, 23 hotels and 6 holiday villages in 25 countries across 4 continents. Merlin's purpose is to deliver memorable experiences to its millions of guests around the world, through its iconic brands and multiple attraction formats, and the commitment and passion of its employees. See www.merlinentertainments.biz for more information and follow on X @MerlinEntsNews.
About InterContinental Hotel New York Times Square
Located in the heart of Midtown, Manhattan, InterContinental New York Times Square is making for an unforgettable retreat within New York City at the crossroads of the theater district, business and entertainment areas. Channeling the polished style of a chic Manhattan residence, the hotel's 607-guestrooms and suites offer dramatic views of the city, Times Square and Hudson River. The hotel recently unveiled newly redesigned suites – the Penthouse Suite, a duplex with a grand staircase that includes floor-to-ceiling windows, bespoke furnishings in the living room and dining areas and a master bedroom with an inlaid fireplace, the Manhattan Suites, that embodies apartment style living on the top three floors of the hotel, and family suites, perfect for a family of four with a sofa bed and TVs in all rooms. Additionally, The Stinger Cocktail Bar & Kitchen serves thoughtfully created cocktails, breakfast and dinner.
About Warner Bros. Discovery Global Themed Entertainment
Warner Bros. Discovery Global Themed Entertainment (WBDGTE), part of Warner Bros. Discovery Global Brands, Franchises and Experiences, is a worldwide leader in the creation, development, and licensing of location-based entertainment, live events, exhibits, and theme park experiences based on the biggest franchises, stories and characters from Warner Bros.' film, television, animation, and games studios, HBO, Discovery, DC, Cartoon Network and more. WBDGTE is home to the groundbreaking locations of The Wizarding World of Harry Potter at Universal theme parks around the world, Warner Bros. World Abu Dhabi, The WB Abu Dhabi, The FRIENDS Experience, The Game of Thrones Studio Tour and countless other experiences inspired by the Wizarding World, DC, Looney Tunes, Scooby-Doo, Game of Thrones, FRIENDS and more. With best-in-class partners, WBDGTE allows fans around the world to physically immerse themselves inside their favorite brands and franchises.