HAPPY LUNAR NEW YEAR!
Monday February 12th 2018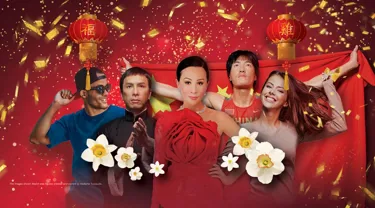 Not sure how to celebrate THE YEAR OF THE DOG here in Times Square, New York?! We got you covered!
Madame Tussauds New York is celebrating the Lunar New Year and the year of the dog by transporting guests to a wonderful world of customs and tradition through a brand new colorful experience. This celebration features three figures for a limited time only & for the first time EVER in New York City-- China's most beloved icons: Carina Lau, Donnie Yen, and Liu Xiang. To further complement this celebration, the immersive exhibit also includes mobile lanterns, themed video displays, photo-ready dragon installations, and so much more!  
Get up close and personal with Carina Lau, the Hong Kong actress who has appeared in films with more than 60 starring roles. Meet Liu Xiang, one of China's most successful athletes who is the only male athlete in history to have achieved the "triple crown" in the event of 110-meter hurdles! Practice your Kung Fu fighting skills with Donnie Yen, a multiple-time Wushu Tournament champion who is often regarded as Hong Kong's top action star! 
To purchase tickets to the new Lunar New Year attraction, click here!
Did you know that the Lunar New Year is meant to invoke good luck and prosperity and that the Chinese tradition is to send gifts to family and friends!? That is why we are giving away a gift of our own! All you need to do is come to Madame Tussauds New York and participate in our Lucky Money Instagram Contest! Click here to learn more on how to win a $100 VISA gift card!