Jennifer Hudson Celebrates Exclusive Wax Figure Reveal With Madame Tussauds New York
Monday September 13th 2021
Jennifer Hudson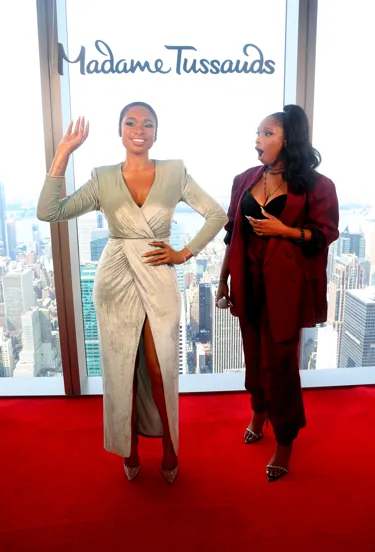 Academy Award-winning actress, Grammy Award-winning recording artist, Emmy Award-winning producer and best-selling author Jennifer Hudson celebrated the reveal of her bespoke wax figure now featured at Madame Tussauds New York. The world's greatest wax museum revealed Hudson's wax figure during a celebratory bash at SUMMIT One Vanderbilt in New York, which included a lively side-by-side photo session between Hudson and her figure, as well as an intimate 40th birthday celebration - a sweet moment shared with some of the star's closest friends and family.
Hudson's figure is now exclusively at Madame Tussauds New York – Times Square where fans can get up close and personal with the multi-talented, pop culture powerhouse in a way that only Madame Tussauds can offer. Her custom wax figure was carefully crafted by a team of studio artists in London following a 'sitting' where more than 200 measurements were taken to capture the singer and actor's exact features, followed by meticulous detailing, sculpting and months-long visual research. Each Madame Tussauds figure takes approximately six months to create.
Celebrities are often closely involved in the figure making process. Hudson selected a pose that would be warm and welcoming to guests, with arms wide open. Her figure is wearing an authentic Galvan Vera velvet gown, worn at the AFI Lifetime Achievement awards for Denzel Washington, and embellished Christian Louboutin pumps donated by Hudson.
"Jennifer Hudson has long stood as a strong, talented, female figure across film, TV and music and we're so excited about this new addition to Madame Tussauds New York," said Tiago Mogadouro, head of marketing at Madame Tussauds New York. "By introducing such a powerful essence to our New York family, we hope the addition of Jennifer Hudson offers an exciting new experience for our guests."