Kamala Harris Will be First Vice President to be Immortalized by Madame Tussauds Wax Museum
Thursday May 6th 2021
Kamala Harris, Kamala Harris Wax, Madame Tussauds Wax, Kamala Harris Wax Figure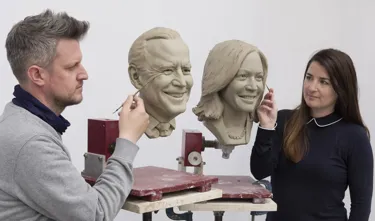 So many firsts!! Not only has Kamala Harris made history by becoming the first woman, first black person, and first Asian American Vice President, but now she is making history by becoming the first ever Vice President to be made into a wax figure at Madame Tussauds.
It's a tradition for Madame Tussauds to create a wax figure of each U.S. president, but it's an honor that has never-before been extended to the Vice President. Madame Tussauds shared the news by releasing work-in-progress images of Biden and Harris, just ahead of their 100th day in office. The clay heads were created by a team of studio artists based in London and represent meticulous detail captured by researching hundreds of images to achieve an exact likeness of the famous U.S. leaders' faces.
Madame Tussauds plans to unveil the figures later this year and place them in the "Oval Office" experience at the Madame Tussauds New York, where guests can make their own history posing with Biden and Harris up close.