"MADAME TUSSAUDS IS MORE THAN JUST A WAX MUSEUM" REVIEW COURTESY OUR FRIENDS AT NY SPORTS DAY!
Tuesday November 19th 2019
Come visit us check out what local Manhattanees are buzzing about! Online Tickets start at just $29.99!
As the winter solstice rapidly approaches, there is still hope for the residents of the 'Big Apple' looking to have some fun outside. As the mercury drops, and frigid temperatures hit the surrounding boroughs, New Yorkers may be tempted to stay at home. However, the option to have fun while staying indoors is readily available for patrons, if they choose to. The caveat is that you must make your way towards the location of Madame Tussauds New York.
To add to the list of fun filled activities readily available for locals to partake in, Madame Tussauds New York is offering guests an opportunity to test their virtual capabilities in a world resembling the Walking Dead. By attempting to survive the zombie apocalypse, you are guaranteed to beat the cold.
The inclusion is called Mission: Undead! In this adventure brave participants become fully immersed in a zombie conquest, in which you not only play, but compete against other willing contestants in a seven-dimensional, multi-sensory/interactive gaming experience. Outside of being a part of the game, [where the mission is to save the living from the walking dead by putting them to rest with a final death sentence of lead ridden executions], challengers are also subjected to a roller coaster motion throughout the duration of the battle, where your seats are literally moving in realistic motions as you save the world one zombie at a time. At the end you get to see how well you execute the operation; as you get ranked, and your scores are displayed on a leaderboard.
Mission: Undead! isn't included in the general price of admission. In order to play the game, customers must either purchase a Gold or Platinum ticket. Besides purchasing it at the counter, a Gold ticket can also be purchased online for the price of $39.95, while a Platinum ticket will run you $10 more. Another cool offer outside of the game that included with the Platinum ticket, is a free wax molding of one of your hands.

But there is more, Madame Tussauds New York offers another fun encounter in the general cost of admission [Silver ticket]. If you are a nostalgic film buff, what's next is meant for you.
In commemoration of the remake of the classic film Ghostbusters, spectators are brought on a pleasant cinematic experience. The exhibit which proved to be very costly, [as per Nicole Murphy, the Executive Director of Marketing] was inspired by the 2016 film starring Leslie Jones, Kate McKinnon, Melissa McCarthy and Kristen Wiig.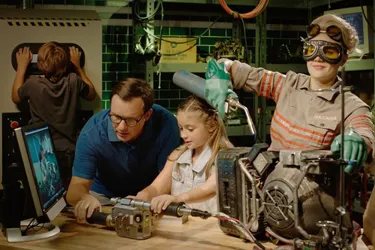 By pulling a page out of the Universal Studios playbook, Madame Tussauds New York is now giving outsiders an opportunity to be a part of the movie. Madame Tussauds New York bodes well paying homage to the film setting. The replicas of the New York City subway trains and tracks are stunning. The basement of the haunted mansion and the Ghostbusters Headquarters in Times Square are quite impressive on a glance, let alone when fully captured in its essence. Lastly, don't miss the opportunity to press the button on "Slimer". By pressing the button you ultimately capture him, thus sending him down the tube to Ghostbusters universe.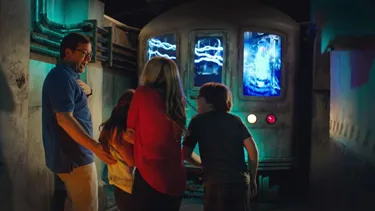 Madame Tussauds New York is more than just a wax museum. It's out of the ordinary. You'll enjoy wax figures of some of your favorite actors, athletes, entertainers and sections devoted to Marvel's finest that will leave you enthralled.
There are other ticket packages available for purchase at Madame Tussauds New York. The Silver ticket priced at $29.95, includes the "Marvel Superheroes 4D Film Experience". The Silver ticket does not cover Mission: Undead! Lastly, fans alike have the choice of combining a Silver ticket with a sightseeing bus ride. For $69 you can visit Madame Tussauds and ride the Big Bus Tour. On the Big Bus Tour, you listen to a narrator comment on some of the city's most famous landmarks and attractions, while snapping pictures with your smartphone.
Thanks to NY Sports Day for this amazing review of Madame Tussauds New York in Times Square! Come visit us check out what local Manhattanees are buzzing about! Online Tickets start at just $29.99!