MADAME TUSSAUDS NEW YORK PRESENTS BROADWAY, AND YOU'RE INVITED TO BE THE STAR OF THE SHOW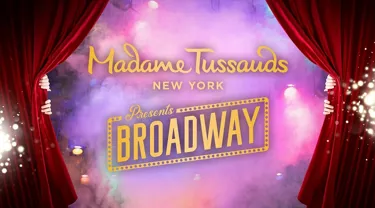 Actress, Dascha Polanco, and Broadway influencer, Tyler Mount, partner with the iconic attraction to reveal an unforgettable immersive theatrical experience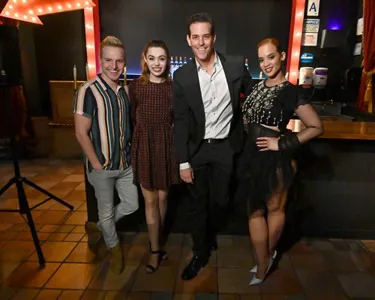 (NEW YORK, NY) June 4, 2019 – Today, Madame Tussauds New York opened their newest experience, Madame Tussauds New York Presents Broadway, in partnership with Andrew Lloyd Webber's Really Useful Group–and some serious star-power. Dascha Polanco of Orange Is the New Black and upcoming movie adaptation of Broadway's In the Heights, and Tyler Mount, a Tony, Olivier, Drama League, Outer Critic's Circle winner and Broadway's most noted social influencer, partnered with the iconic New York attraction to launch an unforgettable immersive experience. It's official, the magic, glitz and glamour of 42nd Street in New York City has been captured for locals and tourists alike to relive again and again!
"Madame Tussauds New York is thrilled to bring a piece of immersive Broadway magic to our visitors," said Tom Middleton, General Manager at Madame Tussauds New York. "Launching this truly unique interactive experience with two of the hottest stars associated with Broadway and television is a dream come true for us. We have no doubt our guests will leave feeling like a star."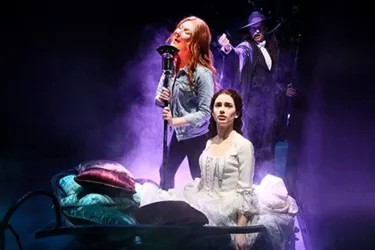 The unveiling of Madame Tussauds New York Presents Broadway kicked off with a high-energy Q&A with Dascha Polanco and emceed by Tyler Mount as they talked about everything from their love of Broadway, different acting experiences, and of course how amazing the Madame Tussauds Presents Broadway experience is. 
"Partnering with Madame Tussauds to present their new Broadway experience is such a special opportunity for me," said Dascha Polanco, actress.  "As an artist I feel like this project demonstrates the artistry of immersive design by bringing the behind-the-scenes magic to everyone who walks through the experience, something that most people will never have the opportunity to see and feel.  This is a must see in New York City."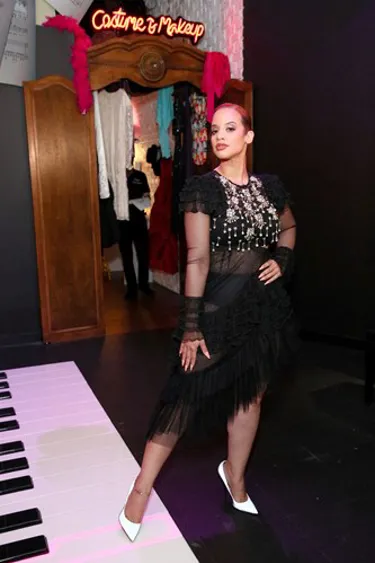 "Everyone who knows me knows that I live and breathe Broadway; it's who I am," said Tyler Mount, Vlogger. "Helping to launch Madame Tussauds Presents Broadway is an experience I couldn't pass up. Bringing the sights, sounds and magic of being behind-the-scenes of a Broadway show is one of the most exciting projects I've been a part of."
Intrigued by what exactly the Madame Tussauds New York Presents Broadway experience is? Well, the wait is over! As you enter the experience, WHOOSH, you're immediately transported behind the scenes of a Broadway show, instantly becoming the star. First, make a pit stop at the Broadway Bar for a tasty cocktail before being whisked away by themed hosts and the enchantment of queuing the magic to bring the show to life.
As your journey unfolds, you are catapulted into the world of Broadway, welcomed by The Phantom of the Opera for a one-of-a-kind behind the scenes adventure. Through a labyrinth of mirrors, ropes, pulleys and props, you will be physically swept through Andrew Lloyd Webber's iconic masterpieces, including The Phantom of the Opera, Joseph and The Amazing Technicolor Dreamcoat, Evita, Sunset Boulevard and Cats. Throughout your journey, you'll perform alongside Grizabella and bring the technicolor coat to life.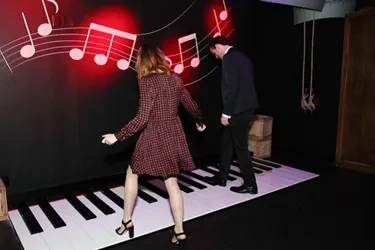 Do you have what it takes to be the star in one of these shows? Now's your chance to find out.
Check out the buzz around the new Madame Tussauds New York Presents Broadway in The Daily Mail,  USA Today, Washington Post, ABC News, Playbill, The New York Times, and AP News!
About Madame Tussauds New York
Voted as one of New York's most unique attractions, Madame Tussauds gives you the chance to experience the ULTIMATE fame experience. Madame Tussauds has brought to life thousands of celebs, stars, and heroes –in mind-blowing accurate detail-giving visitors the opportunity to brush shoulder with their idols and LITERALLY reach for the stars. With over 85,000 square feet of interactive entertainment and several new spaces, including the new Mission Undead: 7D Zombie Experience, and NYE in NYC, the world-famous attraction is bigger and better than ever!
About The Really Useful Group
The Really Useful Group is Andrew Lloyd Webber's producing and licensing company and manages the theatrical rights for all of Andrew's works, including The Phantom of the Opera, Cats, Jesus Christ Superstar, Evita, Sunset Boulevard and School of Rock – The Musical. The Really Useful Group reached over 20 million people across the globe last year from live theatre and concert audiences, cinema-goers, television viewers and music fans, to social media and art lovers. This year The Really Useful Group continues to work across theatre, film and television and as it produces and develops new projects and partnerships worldwide, alongside its ongoing work in education, amateur licensing and music publishing.
Media Contact: