MADAME TUSSAUDS NEW YORK REVEALS AVICII FIGURE TO CELEBRATE THE ELECTRONIC DANCE MUSIC LEGEND'S LIFE AND LEGACY!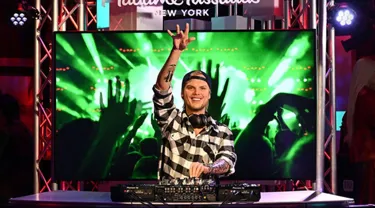 DJ with Avicii at Madame Tussauds New York! Online Tickets start at just $29.99!
Madame Tussauds New York is celebrating Avicii, one of the most acclaimed and beloved producers, performers and songwriters in modern music by unveiling a figure in his honor. The Electric Dance Music icon's figure will give guests the opportunity to relive Avicii's stand out performances and pay tribute to his life. Upon entering the space, guests become fully immersed in one of his concerts where they'll have the opportunity to drop a beat and throw their own dance party to Avicii's greatest hits.

Madame Tussauds New York worked closely with Avicii's parents to honor his legacy and to curate an experience that was authentic to his life. Throughout the entire process, they played an integral role from inception to the final creation of the figure. Anki Lidén and Klas Bergling said "We would like to thank Madame Tussauds for reaching out to us and hope the figure will be well-received. We appreciate that Tim is being honored in this way and hope it will bring joy to everyone who loved him and his music."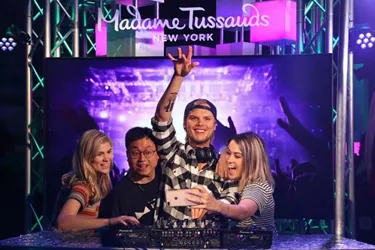 "It was an honor working with Avicii's parents throughout the whole process," said Tom Middleton, General Manager of Madame Tussauds New York. "When starting this project, we knew that working with his family was a must to ensure we captured the essence of who Avicii was both on and off stage. We are thrilled with how amazing this experience is going to be for our guests from around the world."

During October, Madame Tussauds New York is partnering with The Tim Bergling Foundation, which was created by Klas Bergling and Anki Lidén after the passing of their son Tim Bergling, also known as Avicii. The foundation's efforts support organizations which address mental health needs and suicide prevention. Guests at Madame Tussauds New York will have the opportunity to give a donation toward this cause at the retail shop.
Press Release Available for Download Here
Check out who else is talking about this iconic figure: Billboard, People, USA Today, Your EDM, Page Six, Hollywood Life, TMZ, MSN, InTouchWeekly and DJ Times!