Madame Tussauds New York Reveals Black Panther Figure
Wednesday August 18th 2021
Black Panther, Marvel, Marvel Studios, Wakanda, Wakanda Forever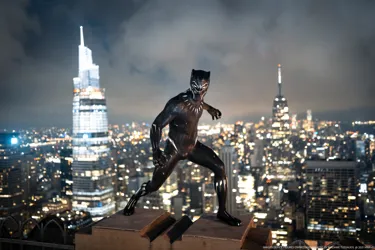 The king of Wakanda and powerful warrior known as the Black Panther, has arrived in New York City. The new figure from Marvel Studios' Black Panther was revealed by Madame Tussauds New York in striking photos featuring the figure atop the New York City skyline. The images were inspired by the iconic Black Panther movie poster where T'Challa watches over his kingdom, the nation of Wakanda.
Designed with the help of FBFX, leading special effects costume providers for the film industry, Black Panther's figure is dressed in his signature Black Panther suit. The costume also contains an in-built 'vibranium effect,' causing the suit to charge with kinetic energy and light up with a purple glow during guest interactions.
"We worked closely with the amazing team at Madame Tussauds to bring to life the Black Panther suit that fans know and love from the Marvel Studios films. The detail really is stunningly accurate and we're sure that it will be a hit with Marvel fans young and old," said Brian Crosby, Creative Director for Marvel Themed Entertainment.
Starting August 20th, fans can come face to face with Black Panther in Marvel's Hall of Heroes at Madame Tussauds New York, which also features some of the most popular Marvel Super Heroes such as Captain America, Thor, Nick Fury, Iron Man and Captain Marvel.