NEW! MADAME TUSSAUDS NEW YORK IN TIMES SQUARE NOW OFFERS BIRTHDAY PARTY PACKAGES TO KIDS, TWEENS, TEENS AND ADULTS!
Monday November 25th 2019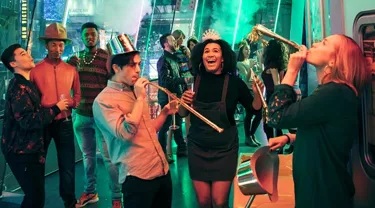 Looking for a new, unique and fun Birthday Party spot in New York City for that special someone? Are you having a hard time finding the perfect birthday spot for your tween or teenager without all the kitschy party items that make them feel childish? How about one location that appeals to everyone from the age of 5 up to the age of 95? Madame Tussauds New York in the heart of Times Square is the only place that has celebs that appeal across many generations with no ropes or barriers holding them back from living their best life with their favorite stars! For the first time, your favorite celebrities, athletes and even Superheroes can attend your Birthday Party!
All party packages include admission to Madame Tussauds New York, One Hour in the Private Birthday Party Room, a FREE Madame Tussauds New York Drawstring Backpack signed by all of your guests, plus a SPECIAL Birthday Message on our 42nd Street Jumbo Tron. In addition to all these, the party packages include a tons more!
The STAR package includes the Marvel 4D Film and Experience, Mission: Undead 7D Zombie Game, and One Slushy Drink of Choice (And yes, there are alcoholic options for 21+ Guests).
The SUPER STAR package includes all of the goodies in the STAR Package PLUS a Make-Your-Own Souvenir Wax Hands, One Slice of Pizza, Digital Photo Pass and one FREE Printed Photo and Souvenir Photo Frame for the Guest of Honor!
If that's not enough, all of these packages are super customizable to fit your unique requests! 
PHOTO KEYCHAINS + MAGNETS: $5.00 for 2 (Retail Price: $5.00) Let your guests take home a copy of your group birthday photo in either a souvenir magnet or keychain!
ENGRAVED CELEBRITY TROPHY: $20.00 (Retail Price: $30.00) Is your guest of honor destined for fame? Personalize a special trophy with their name to always remember their legendary birthday at Madame Tussauds!
FIGURE REQUESTS $200 additional for each figure move Have a certain celeb or character in mind that you'd like to us to place in your party room? We're happy to re-arrange our figures to fit your needs!
Birthday parties at Madame Tussauds are perfect for all ages, whether the Guest of Honor is turning 5 or 50, we've got celebs that everyone will love! During the first half of your party, you will explore all 9 floors of Madame Tussauds New York! You'll get to experience our A-List Room, Broadway, Film & Television, and even get spooked in our Ghostbusters Experience PLUS the fan-favorite Sports Zone and Music Zone too! With so much to see, you and your guests are sure to be WOW'd!
One Private Room at Madame Tussauds New York for One Hour!
And that's not it!  After your time exploring the the attraction, you and all of your party guests will get to spend an hour in your very own Private Party Room located in the NYE in NYC Experience, also known as our Viewing Gallery. Where does the name Viewing Gallery come from, you may be curious? That's because half of the room overlooks the bright exciting lights of the world-renowned 42nd Street! If you look close enough, you can even see the Times Square Ball that drops at the end of every year!