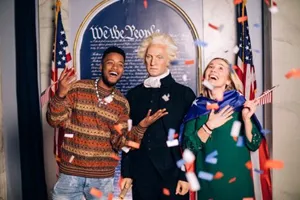 Madame Tussauds Orlando is the perfect venue for your next event - small or large!
Celebrate a special occasion, treat your employees to a company party, or host a business meeting! Madame Tussauds is a one-of-a-kind special events venue in which more than 100 of the world's hottest celebrities, athletes, legends, and superheroes are in attendance for your function. We can accommodate all types of events!
Madame Tussauds Orlando provides groups with an entertaining and educational opportunity to experience the world's most fascinating celebrities, influential world leaders, historical figures and sports icons.
Book Today! For more information, fill out the form below or email us at OrlandoSales@MerlinEntertainments.biz.