Beatlemania
Tuesday November 10th 2015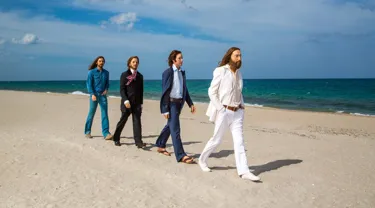 Good Day Sunshine! John, Paul, Ringo and George continue the British Invasion at Madame Tussauds Orlando this summer as their wax figures descend upon Florida and take their place, for a limited time only, inside the famed wax attraction on International Drive.
The figures of the Fab Four are set in a pose that pays tribute to the 1969 Abbey Road album cover, which captured all four members walking across a zebra crossing (or crosswalk) outside of Abbey Road Studios. The image is arguably one of the most recognizable in music history. It is also the second-to-last album released by the band before their 1970 break-up.

To recreate these new figures, Madame Tussauds artists utilized measurements taken from previous sittings with the band, as well as image research from the Abbey Road album photo shoot to style each figure. The Beatles have a long history with Madame Tussauds. They were the first rock band to appear in the grand hall at Madame Tussauds London. All four members met with studio artists in 1964 to take measurements for the creation of their original wax figures.

Madame Tussauds artists used a number of image references from the Abbey Road album cover photo shoot, which explain some differences between the original photo and the figures, including the group's line-up and Paul's flip-flops.

Starting July 30, Beatles fans can Come Together, say Hello Goodbye and take the selfie of their dreams as they take part of one of the most famous Beatles images of all time! The figures will be on display Eight Days A Week at Madame Tussauds Orlando for a limited time only.
BUY TICKETS