Fun Activities in Orlando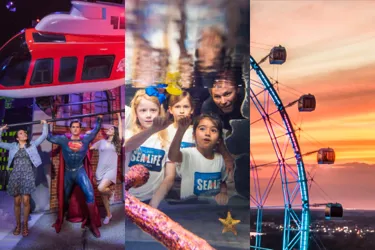 Orlando, Florida, is one of the most popular vacation destinations in the world, attracting millions of visitors yearly. And it's no surprise why—Orlando is home to breathtaking natural beauty, incredible indoor fun, and fantastic dining and shopping experiences. 
With its sunny weather, beautiful beaches, and world-famous parks, there's no shortage of fun activities for the whole family. Among the top attractions in Orlando is Madame Tussauds, a renowned max museum that features lifelike figures of the world's biggest celebrities and historical figures. 
Are you planning a family vacation to Orlando? You'll typically want to plan numerous fun activities to keep everyone entertained. Here, we'll explore some of the best activities in Orlando and Madame Tussauds that the whole family can enjoy.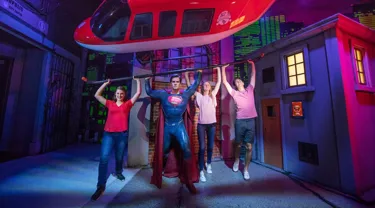 Madame Tussauds Orlando

 
Madame Tussauds Orlando is a wax museum featuring lifelike wax figures of celebrities, athletes, and historical figures. The museum is part of the larger ICON Park complex, a popular entertainment destination in Orlando. 
Explore diverse sections with unique themes. Refresh your history knowledge in the history section, where you'll get to know the world's most outstanding leaders, both past and present. The interactive displays and informational plaques give you incredible history lessons beyond your textbook. 
Learn about the lives and legacies of Martin Luther King Jr., Abraham Lincoln, and Albert Einstein. You could also appreciate more history as you interact with figures of Barack Obama, George Washington, Steve Jobs, or Thomas Edison.  
Let your kids assemble at the Justice League section to join the ultimate battle. Step into the world of your beloved characters and take photos with your favorite heroes. Figures of Wonder Woman, Batman, Aquaman, The Flash, Superman, and Cyborg guarantee an incredible experience for everyone. 
Try to outrun The Flash or test your strength against Superman. You can also take photos of these figures before heading back home.  
Step into the world of Hollywood and take photos with the most famous actors and actresses on the silver screen. Meet A-list celebrities like Angelina Jolie, Brad Pitt, and Johnny Depp. The incredible sculptures and authentic costumes highlight the intricate details of the art. 
Relish the glitz and glamour of Hollywood in this immersive and interactive experience. Sit in the director's chair and get a feel of what happens behind the scenes of your favorite movie. 
Take photos with Po's wax figure sculpted in incredible detail, with his trademark black and white fur and friendly smile. Let your kids participate in a Kung Fu training session and learn basic moves. 
Head to the movie zone for an immersive experience with Jackie Chan's wax figure. The figure captures his signature smile and dynamic energy, dressed in an iconic outfit from one of his movies. 
Enjoy admission to multiple attractions with combo tickets. Typical entries for this ticket include Madame Tussauds Orlando, LEGOLAND Florida Resort, and SEA LIFE Orlando Aquarium. If you visit in groups of 10 or more people, you get discounted rates on the group tickets. 
Buy your tickets online to guarantee admission and enjoy the best price! The standard admission ticket grants entry to Madame Tussauds Orlando during regular operating hours. Expect discounted rates for your children.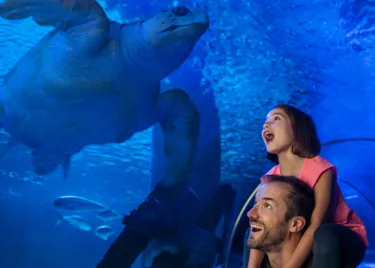 SEA LIFE Aquarium

 
Meet thousands of creatures and explore over 250 species when you stop at SEA LIFE Aquarium. Your kids will relish the incredible underwater experience at the 360-degree Ocean Tunnel. Explore life under the ocean without getting wet. 
Watch sharks, turtles, eels, and fish swim all around you. Let your young ones say hello to Joy, the zebra shark, and Chely, the rescued green sea turtle. Enjoy a fully immersive experience as you get up close to marine life. 
Your family will also learn about marine life behavior and natural habitats. Create lasting memories while considering the impact of human activities on the ocean ecosystem. 
Watch the neon spectacle at the Jelly Wall exhibit. The colors that the jellyfish creates will impress you. Relish the beauty and elegance of jellyfish, best known for their unique shapes, colors, and movement. 
Numerous tropical fishes will fascinate you at the Indian Ocean exhibit. Meet Ted, the Loggerhead turtle recently voted as Orlando's most-loved animal. You'll also meet shark species like the zebra sharks. Ensure you also catch glimpses of the cow nose rays! 
This dynamic ecosystem also features stingrays. The numerous coral reefs will impress you. Be sure to check out the tiny and delicate seahorses. 
Take your kids on the behind-the-scenes tour and learn about fish food and dietary preferences. You will also see our Ocean Overlook at the top of our habitats and learn how we care for thousands of sea creatures. Feed some of the fish, take a photo or video with your family, and then watch the ensuing frenzy.  
Spend time at the Coastal Rockpool exhibit to make your tour more memorable. Learn about the incredible micro-habitats in the coastal ecosystems at this touch tank. 
Let your young ones display their bravery while touching sea stars and anemones. Explore more exhibits at SEA LIFE Orlando, including the giant shipwreck and colorful marketplace with amazing Axolotls. Surround yourself with multiple fish species in the unique displays. The aquarium map can guide your excursion while you create lasting memories with your family.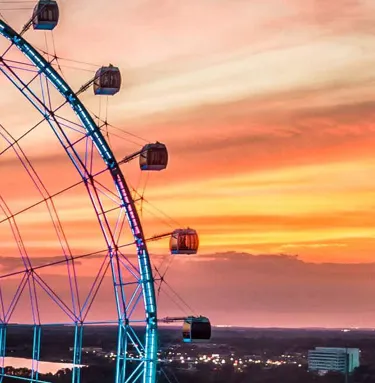 The Wheel at Icon Park

 
Enjoy panoramic views of downtown Orlando when you stop at the Wheel at Icon Park. This 400-foot-tall observation wheel lets you appreciate the beauty of the nearby Lake Eola and the surrounding area. 
The air-conditioned capsules accommodate up to 15 people in the 20-minute ride. The Wheel is always an ideal way to start or finish your vacation. Enjoy exquisite dining and boutique shopping options after the slow, relaxing ride. Discover Orlando's numerous attractions before you find a ticket for a late-night ride on Friday. 
Your kids will love the unique light shows from the 64,000 color-changing LEDs at the Wheel. Take in Orlando's sights while beholding the stunning skyline on this spectacular Observation Wheel. You can see Little Sandlake and Big Sandlake from the top of the Wheel. 
The Wheel also offers a bird's eye view of the Walt Disney World. View the four parks, Disney Springs, amusement park rides, and nightly fireworks. See Downtown Orlando, including the Kennedy Space Center, Amway Center, and the International Drive. At the peak of the Wheel, ensure you catch the Incredible Hulk coaster, Hogwarts, and Volcano Bay. 
While the adrenaline rush of a roller coaster is impressive, nothing compares to the stunning views of Orlando's skyline. Everyone will enjoy overlooking the city. With multiple lunch and dinner options, you'll find a restaurant with something for everyone in the family. 
Your vacation won't be complete until you see it from 400 feet! Regardless of your vacation plans, ensure you find time for the Wheel at ICON Park. This amusement park ride is ideal for any occasion for the whole family. ICON Park will deliver whether you're celebrating your child's birthday or planning an anniversary party. 
Pirate's Cove Adventure Golf

 
Dive right into the legendary world of 18th-century buccaneers, where the adventure begins. Relish the ultimate miniature golf experience that the family-friendly courses offer. Putt your way through a fun-filled atmosphere of enchanting pirate lore. 
All ages can tackle the challenges of the available 18-hole course. The course is challenging enough to keep adults engaged but not so difficult—this setting sees to it that children can enjoy it. Let your kids dress up like pirates as they enjoy the pirate-themed decorations. 
Find your way through mountain caves, over footbridges, under cascading waterfalls, and across the full-scale pirate ship. The adventure golf courses feature innovative hole designs and lush landscaping. Enjoy an entertaining pirate theming with your family. 
The legends of infamous pirates come to life as you make your way through the cascading waterfalls. Adventure Golf's courses have detailed designs to offer maximum enjoyment for kids and adults alike. Discover the fun through the 18-hole adventure course. 
Pirate's Cove Adventure Golf in Orlando is a fun and exciting way to spend time with your family. You'll relish a unique and engaging mini-golf experience with a fun pirate theme that appeals to children and adults. 
Pearl Express Train

 
Take a tour of the Pearl Express Train with your family. Enjoy special family time that lets you take in all the sights, sounds, and smells of ICON Park. The train departs a short distance from the Wheelhouse, delivering fun for all ages. 
Your kids will cherish this fun-filled, memorable experience that never disappoints. Enjoy a scenic tour of the Icon Park complex with the Pearl Express Train. The train resembles a classic steam engine with cars decorated with pearls and other gemstones. 
This 10-minute train ride takes you on a loop around the complex. You'll enjoy views of the surrounding area and the nearby observation wheel. Purchase your tickets at the ticket booth or online. 
The train cars have gemstone and pearl decorations, making them ideal photo backdrops. Take time to appreciate the scenery as you go on the loop around the Icon Park complex. The audio tour offers information about the history and attractions of Icon Park. 
Water Parks

 
Orlando's warm climate makes it the perfect destination for water parks, which offer a refreshing way to beat the heat while enjoying fun in the sun. The leading water parks in the city include: 
Blizzard Beach 
This Disney-owned water park features a ski resort theme, with attractions like the Summit Plummet, one of the World's tallest and fastest water slides. The park's centerpiece is Mount Gushmore, a 90-foot-tall artificial mountain home to numerous water slides and attractions. 
Enjoy an incredible round trip on the Slush Gusher. This water slide sends you down a steep drop, then shoots you up a hill before sending you down another drop. Take a family ride on Teamboat Springs, where you'll travel down a 1,200-foot-long flume that twists and turns through rapids and tunnels. 
Let your kids play around Tike's Peak, which features smaller slides, water jets, and other interactive water features, perfect for younger kids. Relax and soak up the sun at the Melt-Away Bay. 
Typhoon Lagoon 
This water park features a tropical island theme, with attractions like the Crush 'n' Gusher water coaster—spare time to explore the Surf Pool that produces waves up to six feet tall. The theme of Typhoon Lagoon centers around a tropical paradise struck by a typhoon that left behind a water park full of adventure and excitement. 
Board a raft and travel through twists and turns at the Crush 'n' Gusher. Alternatively, you could take a family-friendly raft ride at Miss Adventure Falls. Journey through an abandoned treasure-hunting expedition and encounter diverse special effects and surprises. 
Castaway Creek is the best spot for families who need a relaxing way to explore the attractions and scenery of Typhoon Lagoon. 
Aquatica 
SeaWorld's water park features a South Pacific theme, with attractions like the Dolphin Plunge, a water slide that takes you through a pool filled with dolphins. Aquatica is best known for its tropical theme, diverse water attractions, and incredible animal encounters. 
Relish the numerous water attractions, lazy rivers, wave pools, and play areas for younger children. Interact with different marine animals, including sea lions and dolphins. Let your kids have fun at the Walkabout Waters, featuring water cannons, fountains, and a giant tipping bucket. 
Enjoy a relaxing experience at Loggerhead Lane, a lazy river that winds through the park. 
Volcano Bay 
Universal's newest water park features a Polynesian theme, with attractions like the Kratakau Aqua Coaster, which takes you through a volcano. This tropical paradise has a towering volcano at its center. The unique water attractions, innovative virtual queuing system, and stunning theming will impress you. 
Take the Krakatau Aqua Coaster that takes you up and down the side of the park's iconic volcano. Enjoy the feeling of riding ocean waves that the Honu ika Moana simulates. Your older kids will love the high-speed mat racing slide at Punga Racers. 
Spare time to explore TeAwa, The Fearless River. This fast-moving lazy river features waterfalls, rapids, and various interactive water features. 
Explore International Drive

 
International Drive, or I-Drive, as it's commonly known, is a bustling tourist district in Orlando, Florida. Located just minutes from major theme parks, I-Drive offers diverse activities, restaurants, and attractions ideal for visitors of all ages. 
One of the main draws of I-Drive is its shopping options. The district has numerous shopping centers, like the Orlando International Premium Outlets. You'll also find unique souvenir shops and specialty stores along the street. 
Besides shopping, I-Drive is also loved for its numerous dining options. You'll find everything from fast food and chain restaurants to upscale dining experiences. Find a vast range of cuisines, including Italian, Japanese, Mexican, and more. 
I-Drive also has numerous entertainment options, like the Orlando Improv Comedy Club, which hosts nightly shows featuring top comedians. You can also spare time for the Pirate's Dinner Adventure, a swashbuckling dinner theatre experience. 
If you fancy an outdoor experience, you can rent bikes and explore the area's numerous bike paths. You can also spend time at one of the parks and green spaces, including Bill Frederick Park at Turkey Lake, which offers camping, boating, and fishing. 
Orlando Science Center

 
With four floors of interactive exhibits, hands-on activities, and engaging displays, the Orlando Science Center delivers a fun and educational experience. Explore numerous scientific topics with your family. The live science shows and demonstrations provide a deeper understanding of scientific concepts in a fun and engaging way. 
Children and adults can also make the most of the available educational programs. Numerous learning opportunities exist, from summer camps to science-themed birthday parties and workshops. View the night sky at the Crosby Observatory, which features a powerful telescope. Attend telescope viewings and planetarium shows to learn about stars and planets. 
Besides, you can participate in special events like "Star Wars Day" and "Astronomy Night." The center also features a screening theatre that offers a unique movie-going experience with films that explore science and nature topics. 
You'll also find special events and screenings, like the "Science on a Sphere" exhibit. This exhibit showcases a 3D spherical projection system that simulates weather patterns and ocean currents. 
Unforgettable Fun for the Whole Family

 
Orlando is a fantastic destination for families looking to enjoy and create unforgettable memories. From the thrilling water rides at Blizzard Beach, Typhoon Lagoon, Volcano Bay, and Aquatica to the magical world of Madame Tussauds, there's something for everyone to enjoy. Families can leverage their time in Orlando and create lifelong memories with a visit to any of these top destinations. 
Whether you take a boat tour, explore the SEA LIFE Aquarium, or take the Pearl Express Train, there are plenty of options to keep everyone entertained. Start planning your family vacation to Orlando today and prepare for an unforgettable experience. Orlando has it all!