Fun Group Activities in Orlando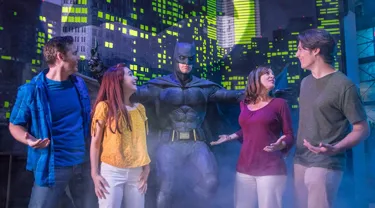 Treat your loved ones or colleagues to a day of celebrity wonder at Orlando's wax museum. With new wax figure sightings available every year, Madame Tussauds Orlando has something for everyone. What's more, groups such as students on a school trip and YMCA members, can enjoy fantastic ticket discounts, so book now and start planning your visit to the world's greatest wax museum.  
Groups Visits

 
Madame Tussauds is the perfect location for fun group activities in Orlando. From partying with the A-listers to helping Wonder Woman restore peace and justice, the wax museum is where your next group visit needs to be. 
Groups of 10+ 
Here's what your family or staff group of 10+ can expect 
Discounted rates are available for groups with ten members or more

 

Receive one complimentary ticket for every 20 tickets booked

 

You must make full payment to complete online reservations

 
Florida Youth Group Field Trips 
Students, scouts, and Parks & Rec clubs planning to visit should note the following: 
Discounted rates are available for organized, local youth groups serving children K-12 grade

 

Group rates are only available for groups with at least ten members

 

Reservations available between Monday and Friday

 
Tickets from $14.99 +tax per person

 

Tickets, including admission to SEA LIFE, start from $24.99 +tax per person

 

One adult chaperone must accompany every ten children

 

Receive a complimentary adult chaperone ticket for every ten child tickets purchased

 

You must make full payment to complete online reservations

 
You must show proof of organization affiliation at check-in

 

We don't accept purchasing extra tickets after making your original reservation. We suggest booking for the maximum amount of people anticipated in your group

 

You can contact the Group Sales Department 48 hours in advance for a partial refund of those tickets if you end up having fewer individuals than initially booked

 

You may cancel or reschedule paid reservations any time before 48 hours of your original visit date

 
Tax-exempt groups must submit proper documentation after purchase. Please email orlandosales@merlinentertainments.biz  your tax-exempt form and order number after your purchase. 
Group Tour Operators 
You must submit a request to receive group tour operator tickets.  
Discounted rates for qualifying tour groups of 10+ or more

 

Single attractions tickets and combo tickets, including admission to SEA LIFE, are available

 

One free comp ticket for every 20 tickets booked

 
You must make full payment to complete online reservations

 
Group Preparation Guide 
We encourage you to use our group preparation guide to help you plan your visit to Madame Tussauds Orlando. Here are a few tips. Visit this page for a detailed guide. 
Preparation steps before your visit. 
Learn the history of Madame Tussaud so that you and your group get a feel for our storied past

 
Check out the "What's inside" page to catch a glimpse of the wax models to expect

 

Ensure you have your group pre-sorted into groups no bigger than 20 children and that each group knows when to arrive for their lunch and workshop if applicable

 

Teachers and guardians should explain where and when the children will have lunch, required behavior, toilet breaks, and when children will enter the wax museum or access our gift shop. For any questions, we recommend contacting

OrlandoSales@MerlinEntertainments.biz

 

 

Madame Tussauds is an entirely indoor attraction. We recommend wearing comfy shoes, and if possible, have children wearing unified t-shirts of the same color to keep track of your group

 
Things to remember during your visit 
Parents, caretakers, and teachers should take note of the following. 
Ensure each child group has an adult at all times

 

Inform the children to respect other visitors, i.e., no yelling or running

 

The attraction does not permit outside drinks and food

 

The gift shop only allows credit and debit

 
Buy Tickets 
Get your group tickets at an affordable price. Ensure you meet the booking requirements, including the minimum number to enjoy complimentary tickets and discounted ticket rates. You can only make payments using a credit card when booking using Visa, MasterCard, American Express, or Discover. 
Frequently Asked Questions
Madame Tussauds Orlando opens every day at 11:00 a.m. The closing hours vary on weekdays and weekends, with the last admission at 6.00 p.m or 7:00 p.m.
Visit our Opening Hours page for the most up-to-date hours.
If you had a reservation for the dates when we were closed, please know that we would happily reschedule. For additional questions, don't hesitate to contact orlandosales@merlinentertainments.biz. 
It takes about 45 minutes to an hour to visit Madame Tussauds. However, you and your group may take as long as you need to experience the entire attraction. 
Plan a Fun-Filled Group Visit to Madame Tussauds Orlando

 
Come party with celebrities and help the Justice League superheroes fight crime at Madame Tussauds Orlando. Get your pre-paid group tickets today for guaranteed entry and discounted rates.