Global Superstar, Maluma Announces Wax Figure is Coming to Madame Tussauds Orlando
Wednesday August 11th 2021
Maluma, TODAY Show, Wax Museum, Madame Tussauds Orlando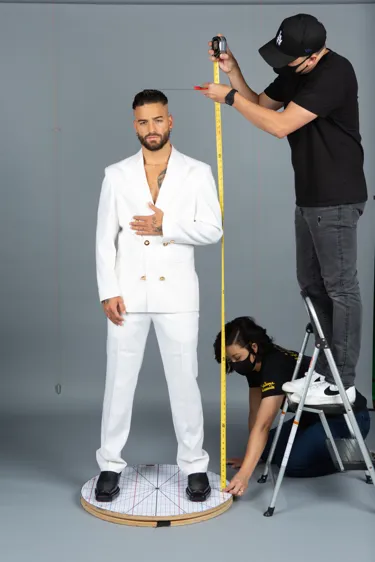 Latin Artist Gets Ready to Raise 'La Temperatura' at the World's Greatest Wax Museum
Orlando, Fla. (Aug. 11, 2020) – Colombian and global artist, Juan Luis Londoño, better known as Maluma (27 years old), is the latest A-lister to get "waxed" at Madame Tussauds Orlando. Winner of a Latin Grammy in 2018 for the Contemporary Pop Vocal Album (by F.A.M.E.), Maluma has had an enormous impact on urban music and has crossed over into different global markets in the last few years. The singer and songwriter has released six albums that have charted within the Billboard list. Today, he shared a sneak peek at his latest accomplishment. Maluma announced he is being honored with a Madame Tussauds wax figure on NBC's TODAY by sharing video and images captured at his sitting; the first step of creating a wax figure.
He said receiving a Madame Tussauds figure will mean a lot to his Latin community, "I'm a big dreamer. I remember when I was in high school saying that I wanted to be here at the museum and everything is happening; nothing is too big to make it happen."
Madame Tussauds studio artists took hundreds of measurements and captured photographs every angle. Maluma's eyes, hair and skin were also color matched for reference while creating his wax twin. It will take a team of 20 studio artists in London nearly six months to create his figure.
Maluma's figure will be wearing one of his favorite outfits, an authentic white Versace double-breasted jacket and black Bottega Veneta shoes. It will join those of some of his most beloved celebrities, who've also been immortalized by the world's greatest wax museum; including Madonna who he performed alongside at the Billboard Music Awards in 2019. Maluma's wax figure is set to arrive at Madame Tussauds Orlando in 2022, news that's sure to make his fans melt.