Mahomies get Pranked
Tuesday November 10th 2015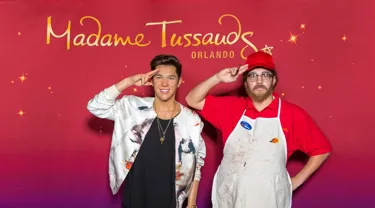 The singer-songwriter met with Madame Tussauds artists to have more than 300 body and head measurements taken to create the lifelike figure. The fashion-forward celebrity also donated his own clothing to put his signature stamp on the figure. No small detail was overlooked. The figure is even wearing a replica of the silver bracelet Mahone's mother made him.
 
"I had a great time today pretending to be a Madame Tussauds employee!" said Mahone. "I loved seeing my fans' faces as they were looking at the figure, and then back to me. Their reactions were priceless! I have some of the best fans in world!"
 
Signing with Chase Records/Cash Money/Republic Records, Mahone has come a long way with his pop music career. His first EP, The Secret debuted in the top five on Billboard's top 200 chart. Pitbull (another Madame Tussauds Orlando figure) and Flo Rida have been featured artists on Mahone's songs. Mahone has also opened for Taylor Swift's RED tour. His most recent single, Dirty Work, debuted on July 2, 2015 and has garnered critical acclaim and one million video views in just one day.  Dirty Work is the lead single from his highly anticipated debut full length album set for later this year.
 
Mahone has been nominated for more than 20 different awards over the last two years. The pop artist has won numerous awards from MTV, EMA's Best Push Artist and Artist on the Rise, and The Teen Choice Award for Breakout Artist.
BUY TICKETS