Meet Celebrities in Orlando!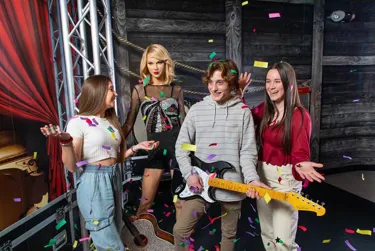 Everyone dreams of meeting their favorite celebrities. But it can be difficult to meet most celebrities in real life, let alone take a selfie with one. Most functions that famous people attend are usually crowded, giving you no chance to get close to them. Sometimes, the TV is the only option we have to meet our favorite celebrities. But there's a better option than that! 
Madame Tussauds allows you to meet some of the most famous people without leaving Orlando. From movie stars and TV personalities to musicians and sports legends, you can meet them all here at ICON Park, Orlando. 
Even though these are wax figures, the attention to detail is so perfect you might think you are with the real person. The artists who create them replicate every characteristic of the real celebrities. That includes their height, body shape, skin tone, hairstyle, outfit, and even tattoos. When you take a photo with these wax figures, no one can tell the difference between them and the real celebrity. Therefore, one of the best things to do in this museum is to take as many photos as you can with the wax figures. 
So, which celebrities should you expect to meet at Madame Tussauds? They are quite a few, but we'll focus on just a few that were recently added to the museum. 
Bad Bunny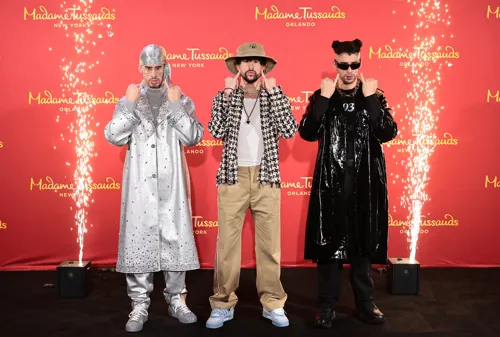 Bad Bunny is the professional name of Benito Antonio Ocasio, a Puerto Rican singer, rapper, and songwriter. He has gained international recognition for his music, which blends reggaeton, trap, and Latin pop. 
Born in 1994, Bad Bunny rose to fame in 2017 with his hit single "Soy Peor" and has since released several chart-topping albums, making him one of the most influential Latin artists of his generation. He has collaborated with several high-profile artists, including Cardi B, Drake, and J Balvin. 
Bad Bunny is also known for his eclectic fashion sense and has been known to wear brightly colored nail polish and avant-garde clothing. He's a huge wrestling fan and even made his wrestling debut in 2021 at WrestleMania 37. In addition to his music career, Bad Bunny has also appeared in several films and television shows, including "Narcos: Mexico," "The Tonight Show Starring Jimmy Fallon," and Bullet Train. 
His wax figure at Orlando is placed in the music section, wearing a long black coat inspired by his royal rumble performance. The outfit was actually donated by him, meaning it's his actual jacket! You'll find him standing in front of flashing neon signs with his rap music playing in the background. That would be the perfect spot for you to join him in his posture by raising your little fingers to copy him, then take a photo. 
Neymar Jr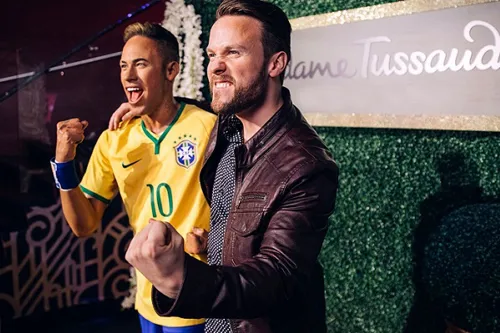 Neymar Jr is a professional soccer player from Brazil who plays for the Brazil National team. Born in 1992, Neymar started his professional career at 17, playing for a Brazilian club known as Santos.  
Having scored over 100 goals in three soccer clubs, Neymar has undoubtedly gained a reputation as one of the top goal scorers in the world. Before joining Barcelona, Neymar had been named twice as South America's soccer player of the Year. 
He has played in the World Cup and Olympics for the Brazil National Team, garnering awards and titles, such as a silver medal in the 2012 Olympics and the Golden Ball in the 2013 FIFA Confederation Cup. 
He continues to make a name for himself in soccer, emerging as one of the world's best and lists among the most expensive players.  
Come and meet this legend at Madame Tussauds Orlando and take a selfie with him. His wax figure is inspired by the 2014 World Cup, where Neymar scored four goals. He is presented in the Brazil National Team uniform, a yellow T-shirt and blue shorts for position 10. 
Maluma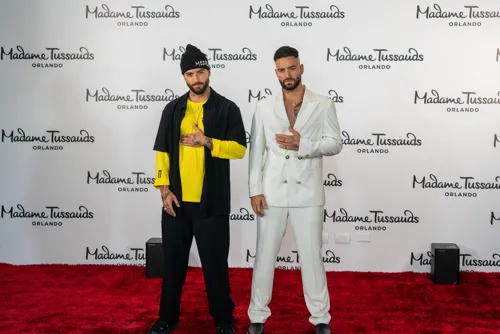 Maluma is a talented and innovative artist who has made a significant impact on the Latin music scene. He was born in 1994, in Medellín, Colombia, as Juan Luis Londoño Arias.  Maluma began his musical career in 2010. Since then, he has risen to fame as one of the world's most prominent Latin pop artists. 
His breakthrough success came in 2015 with his second album, "Pretty Boy, Dirty Boy," which included the smash hits "Borro Cassette" and "El Perdedor." The album was a commercial and critical success and helped Maluma become a household name in the Latin music scene. He has collaborated with some of the biggest names in the music industry, including Shakira, Madonna, and The Weeknd. 
In 2018, Maluma was named one of Time magazine's 100 most influential people globally, highlighting his impact on music and culture. He has also received numerous awards and accolades, including multiple Latin Grammy nominations and wins. 
Maluma's wax figure at Madame Tussauds Orlando portrays his true persona by showcasing his love for fashion. He's often seen wearing designer clothes and accessories. You'll see him at the museum wearing a white Versace suit, with some of his tattoos showing. The most impressive thing about his wax figure is how realistic it looks. It's so real that when he took a photo with it, you couldn't tell him apart from the figure. That tells you something; when you take a photo with his wax figure, it'll be the same as taking it with the real Maluma. 
Wonder Woman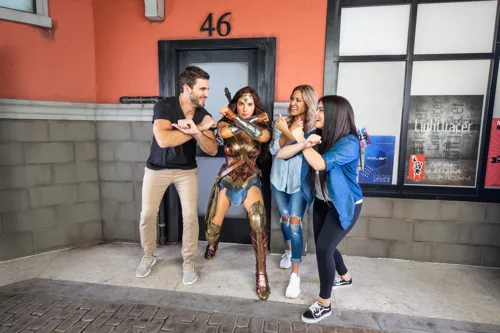 Wonder Woman is a popular superhero character in the DC Extended Universe films, first presented in 1941. The character has been depicted in different ways over the decades. The original story depicts she was sculpted from clay by her mother, Queen Hippolyta. But in 2011, she was presented as the biological daughter of Queen Hippolyta and Zeus.  
In the golden age, Wonder Woman lived in Amazon, where Trevor, an intelligence officer from the U.S., experienced a plane crash. Trevor was found by Princess Diana, who is also the Wonder Woman. The Amazonian nursed him until he was ready to return to the U.S.  
They decided to hold a tournament that would help determine who would take him back to his home. Diana was prohibited from entering the contest, but she disguised herself and entered it. She won the tournament, received a Wonder Woman costume, and then took Trevor back to the United States. She worked as Trevor's assistant in the U.S. where she lived a double life. Trevor didn't know that Diana her co-worker was also the Wonder Woman superhero who often came to his rescue.          
As time passes, the Wonder Woman story changes, but its premise remains the same. Like other DC superheroes, Wonder Woman possesses superhuman powers, which include flying, strength, and speed. In addition, she has several weapons and gadgets, including her signature Lasso of Truth and bullet-deflecting bracelets. 
When you meet her at Madame Tussauds Orlando, you'll see her dressed in battle clothing, inspired by the 2017 movie. The wax figure has a sword at the back and a "bullet-deflecting bracelet." Visitors like imitating her pose at the museum, which captures her in real action. It comes out perfectly in photos, especially because the wax figure appears to be looking directly at the camera. 
No doubt Wonder Woman has inspired a new generation of female superheroes, and now you have a chance to meet her at the Justice League zone in Madame Tussauds Orlando. 
Superman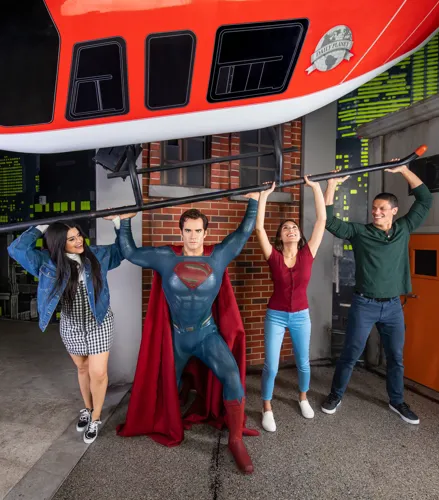 Superman is one of the world's most iconic and beloved superheroes, known for his incredible strength, unwavering moral code, and inspiring sense of justice. According to DC Comics, Superman was born on a fictional planet called Krypton. His parents named him Kal-El. 
When his planet was about to be destroyed, his parents sent him to Earth in a small spaceship. He landed in America in a fictional town referred to as Smallville. He was found and adopted by a family who named him Clark Kent. While on Earth, Clark Kent developed superstrength and the ability to fly. His adoptive parents advised him to use his powers to do good. So, he used it to fight crime.  
The name Superman was used as a cover to protect his personal life. He also wore a costume when fighting crime to protect his identity. When not fighting crime, Superman lived a normal life as Clark Kent. He even had a job at the Daily Planet, where he worked as a journalist.   
Today, Superman continues to appear in DC movies, such as Man of Steel, Bat Man vs Superman, and Justice League.  
Superman's wax figure at Madame Tussauds brings out his strength clearly by showcasing him lifting a real helicopter. You'll see him in his usual costume, consisting of a skin-tight blue suit with a red cape. Feel free to join him and help him lift that helicopter as someone snaps a photo. If you visit with your family, all of you can join him in lifting the helicopter and take a family photo. 
Aquaman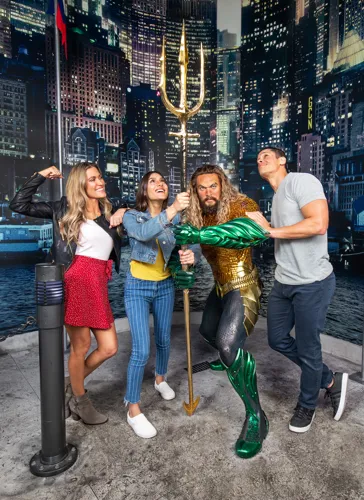 Aquaman is a superhero that has been a favorite of comic book readers for decades. The character has undergone numerous transformations and reinterpretations throughout the years, from his early appearances as the king of Atlantis to his modern presentation as a powerful warrior. 
The movie tells the origin story of Arthur Curry, also known as Aquaman. The son of a human lighthouse keeper and an Atlantean queen, Arthur has the ability to communicate with sea creatures, swim at incredible speeds, and possesses incredible strength. Despite his powers, Arthur has always felt like an outsider, torn between his two worlds. 
The Aquaman's figure at the justice league zone in Madame Tussauds Orlando is inspired by the 2018 film. It presents a realistic wax-figure of Aquaman, wearing his iconic suit, complete with green and gold armor and a trident. The attention to detail is impressive, from the intricate designs on the armor to the suit's texture. The figure stands on a platform surrounded by simulated water, giving the illusion that Aquaman is standing in the ocean. 
Once you see the figure, you'll feel like you're standing next to the real Aquaman, ready to join him on his next adventure in the underwater world of Atlantis. 
Ariana Grande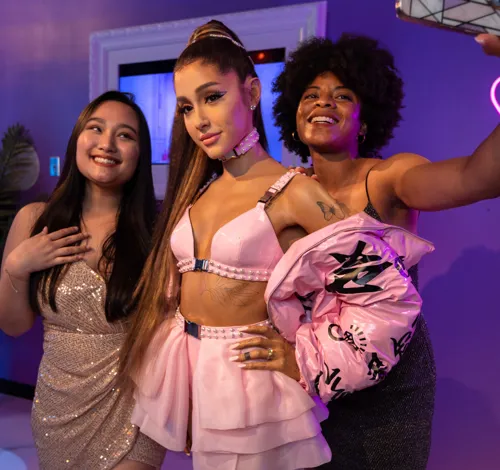 Ariana Grande is a multi-talented artist known for her powerful vocals, infectious pop hits, and unique sense of style. Born in 1993 in Boca Raton, Ariana Grande joined the entertainment industry as an actor and later became a successful pop star. Madame Tussauds Orlando honored her by creating an incredibly lifelike figure, capturing her physical features and the essence of her artistry and persona. 
The figure, which took months of meticulous work and attention to detail, accurately captures the singer's unique features. For instance, the figure's hair has been styled to mimic Grande's signature high ponytail, which the singer is rarely seen without. The makeup has also been recreated with precision, down to the intricacies of her eyeshadow and the shape of her eyebrows. 
All fans of Ariana Grande will be delighted to see this realistic-looking wax figure dressed in a pink outfit inspired by her Sweetener tour. The figure stands gorgeously in a glamorous scene recreated from her 7 Rings music video. You'll find her in the music section of the museum next to the likes of Madonna, Beyoncé, and Michael Jackson. 
When you visit the museum, you can get up close and personal with the figure, taking photos and enjoying an interactive experience. The figure is a must-see for all Grande's fans in Orlando. 
Zendaya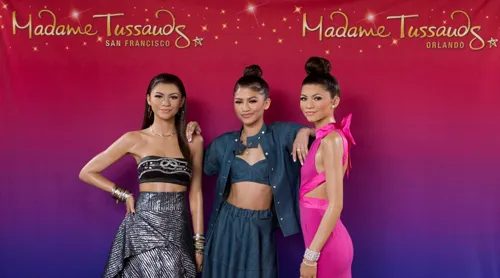 Zendaya is famous for her work as an actress, singer, and fashion icon. She first gained prominence in the Disney Channel series "Shake It Up" and went on to star in other popular television shows and movies, including "K.C. Undercover," "Spider-Man: Homecoming," and "Euphoria." 
In addition to her acting career, Zendaya has also pursued a music career, releasing her first single, "Replay," in 2013. She also collaborated with Bruno Mars in the music video "Versace on the Floor."  
Zendaya is renowned for her fearless fashion sense and has been featured in numerous fashion magazines, including Vogue and Harper's Bazaar. She has even designed her own fashion line, Daya by Zendaya. 
Her wax figure at Madame Tussauds captures her essence perfectly, dressed in a stylish, chic outfit with a couple of accessories. The figure is posed in a relaxed stance as if she's standing on a red carpet with many photographers in the background trying to get the best shot. You can join her on the red carpet at the A-list party zone and let the paparazzi capture the moment. 
Dwayne Johnson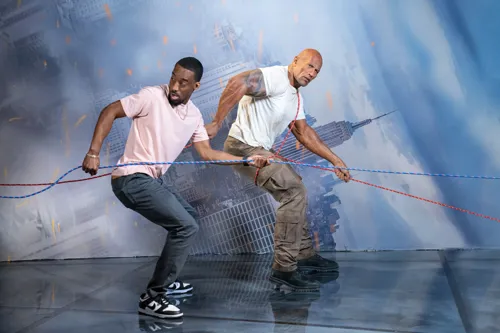 Dwayne "The Rock" Johnson has become a household name because of his status as one of Hollywood's biggest stars and his inspiring backstory as a former professional wrestler turned successful actor. His incredibly lifelike wax figure at Madame Tussauds Orlando is inspired by the 2018 Skyscrapers movie, where he played a former FBI agent trying to rescue his family from a burning skyscraper. 
The wax figure depicts him scaling a building using a rope, wearing a white T-shirt and cargo pants. It makes you feel like you're witnessing live action, especially due to the special effects, which include lights, wind, and sound. Johnson himself was involved in the creation of the figure by providing measurements, photos, and even a mold of his hand for the sculptors to use as a reference. As a result, the figure looks stunningly accurate, down to the smallest details. 
Johnson is known for playing a leading role in many films, including Jumanji, Hercules, The Mummy Returns, The Scorpion King, and Journey 2: The Mysterious Island, among others. His wax figure provides an excellent opportunity for his fans to meet him up close and take photos. 
Visit Madame Tussauds and Meet Your Favorite Celebrities

 
Madame Tussauds has added many new wax figures recently. The above icons are only a few of the new figures. So if you live in Florida, visit the museum to meet these and many other celebrities. If you visited the museum a few years ago, come again and meet the new figures that have been added recently. 
The museum allows you to take as many photos as you can with the wax figures. You can post the photos on social media and leave others wondering how you got the chance to meet the celebrities. 
So if you love celebrities, including musicians, movie stars, superheroes, sports legends, and other influential people, come and meet them at Madame Tussauds Orlando. Book your visit online to get better deals and guarantee entry on busy days. Remember, each ticket to the museum includes a photo pass, which allows you to capture the moment and take the memories with you.