The Royal Family has Arrived!
Thursday December 10th 2015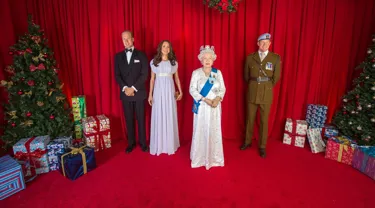 Queen Elizabeth's wax figure is fitted in an exact replica of the dress she wore for her official Diamond Jubilee portrait. Madame Tussauds studio artists were invited to the Palace to obtain exact measurements, photos and detailed notes of the dress. It is embellished with approximately 10,000 Swarovski crystals, and took artists over 60 hours to complete. Her jewelry is handmade and includes the George IV State Diadem, the Garter Star, the Garter Badge, the insignia of the Royal Order of George V and George VI, and Colette necklace and earrings.
Prince Harry's figure is dressed in a Dege & Skinner suit from Savile Row -- created by the actual tailor he uses for his uniforms. Prince Harry is adorned with medals: a set of three Court-Mounted full-size medals, three pairs of gilt and enamel Garter Stars, and one pair of Flying Wings.
Duchess Catherine's figure is styled after her look at the 2011 BAFTA Awards in a one-of-a-kind pale lilac Alexander McQueen gown. Prince William is in a double-breasted six button two-piece dinner suit specially made for Madame Tussauds by Gieves & Hawkes.
Madame Tussauds enjoys a close relationship with the British Royal Family dating back to William IV, King of England when the attraction first opened in London in 1835. Their Highnesses have been closely involved with the royal figures. Madame Tussauds originally began as a traveling exhibit before establishing a permanent home in London and ultimately expanding to 19 attractions worldwide.
BUY TICKETS