Things to Do After Visiting a Theme Park in Orlando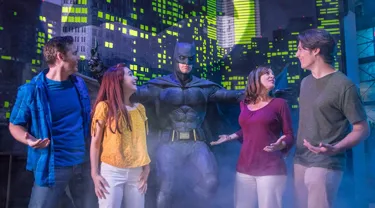 When it comes to theme parks, few places can compete with Orlando, Florida. Home to some of the world's most famous theme parks, like Walt Disney World, Universal Studios, and Sea World, the city draws millions of visitors annually. These iconic attractions deliver unmatched thrill and excitement for every visitor. 
But what do you do after you've had your fill of roller coasters and character meet-and-greets? Fortunately, Orlando has a wealth of numerous attractions and activities to offer. 
Do you want to explore the city's history and culture? There are several museums and art galleries, including the Orlando Museum of Art. Nature lovers can explore the city's many parks and gardens, like Lake Eola Park or the Harry P. Leu Gardens. 
You could also opt for exciting experiences like hot air balloon rides, indoor skydiving, and zip lining. If you want to relax and enjoy shopping or dining, the city has numerous shopping districts and restaurants with plenty of cuisines. 
Here, we explore some of the best places to tour after visiting a theme park in Orlando. 

Madame Tussauds Orlando 
After spending time at Orlando's theme parks, visiting Madame Tussauds is a great way to unwind and have fun. Located on International Drive, just a short distance from many of the area's top attractions, Madame Tussauds is a popular destination for tourists and locals alike. 
The museum features lifelike wax figures of the world's celebrities, athletes, and historical figures. You can take photos with your favorite stars, learn about their lives and careers, and even get up close and personal with some of the figures. 
The museum's sports section features famous icons such as Shaq, Neymar Jr, Dan Marino, and Serena Williams. Spare time to explore the DC Justice League zone and interact with your heroes.  
Are you interested in history? The exhibits here feature lifelike wax figures of some of the most influential people in history, including Abraham Lincoln, Martin Luther King Jr., and Albert Einstein. The exhibit offers excellent perspectives on the world's most influential figures. Learn about your heroes' lives and accomplishments in a fun and engaging way. 
Madame Tussauds is a great way to add fun and excitement to your Orlando vacation. Whether you're a fan of movies, sports, music, or history, there's something for everyone at this popular attraction. So why not take a break from the theme parks and spend an afternoon rubbing shoulders with the stars? 
Buy tickets online to guarantee admission and receive the best prices! Snag tickets for the best attraction on International Drive in Orlando.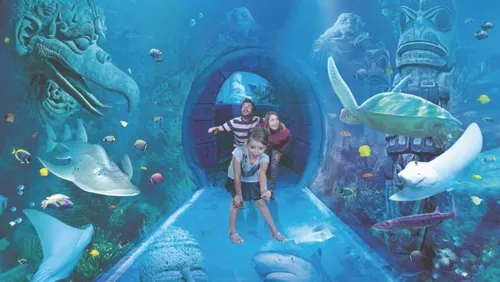 SEA LIFE Orlando Aquarium 
Add more variety to your Orlando vacation by stopping by SEA LIFE Orlando Aquarium. Take a break from theme parks to learn about the fascinating world underneath the waves. Spend an afternoon exploring the ocean's wonders in a relaxing and educational setting. 
Located at ICON Park on International Drive, this aquarium is home to thousands of aquatic creatures. One of the highlights of SEA LIFE Orlando Aquarium is the 3600 Ocean Tunnel, where you can walk through an underwater tunnel and see sharks, rays, a sea turtle, and other fish swimming overhead. 
Enjoy an immersive experience that gives you a unique perspective on marine life while getting close to these creatures in their natural habitats. 
Another popular exhibit is the coastal rockpool touch tank. Here, you can touch and learn about various sea creatures, including sea stars and sea anemones. The exhibit is fun and educational, making it an excellent option for families with young children. 
Are you interested in conversation and environmental issues? The aquarium offers several educational exhibits focusing on protecting marine life and preserving ocean habitats. These exhibits highlight the value of responsible fishing practices, protecting endangered species, and reducing plastic waste. 
Be sure to enjoy the unique behind-the-scenes tours. Learn about the care and feeding of the aquarium's residents through these tours. 
The Wheel at Icon Park 
After spending hours riding roller coasters and other attractions at Orlando's theme parks, visiting the Wheel at Icon Park can be a relaxing and scenic way to end the day. Standing 400 feet tall, this giant Ferris wheel offers breathtaking views of the city and its surroundings. 
The Wheel at Icon Park features air-conditioned capsules, each holding up to 15 passengers, allowing visitors to enjoy the view comfortably. The ride lasts approximately 22 minutes, providing ample time to take in the sights and snap some stunning photos. 
At night, the Ferris wheel is illuminated with an impressive LED light show, adding an extra layer of magic to the experience. Enjoy live entertainment, dining, and shopping at the ICON Park complex. These different experiences make it an excellent destination for a night out. 
The Wheel at ICON Park also offers a VIP Experience, including priority boarding and a glass of champagne. Make your visit more special and memorable with this option. 
Aside from its stunning views, the Wheel at Icon Park also offers interactive touchscreens inside each capsule. The touchscreens provide information about the surrounding landmarks and attractions. Learn more about Orlando's history and culture through this immersive experience. 
Relish 360-degree views of Orlando from 400 feet in the air at The Wheel, and take home beautiful memories.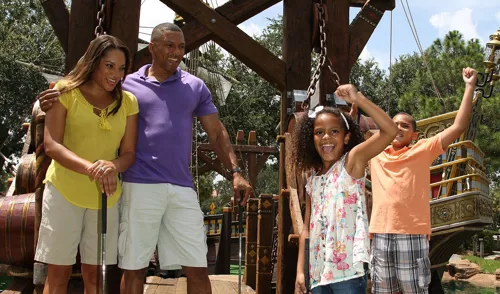 Pirate's Cove Adventure Golf 
After spending an exciting day in Orlando's theme parks, are you looking for a more relaxed and laid-back activity? One perfect option for family-friendly fun is to visit Pirate's Cove Adventure Golf. This pirate-themed mini-golf course offers two 18-hole courses filled with obstacles, waterfalls, and pirate-themed decor. 
As you enter the course, you'll feel like you're stepping into a pirate's world. The sounds of waves crashing against the shore and the smell of salty air immerse you in the experience. The well-maintained landscaping and impressive water features set the stage for a fun-filled mini-golf game. 
The attention to detail in the pirate-themed decor will impress you. Cannons, treasure chests, and a shipwrecked boat make you feel like you're exploring an island inhabited by pirates. 
Both courses offer varying degrees of difficulty, making them suitable for all ages and skill levels. The more challenging holes will test your skills, while the easier ones allow you to relax and have fun. The two courses have different themes, so you can choose which one to play first. 
The Pirate's Cove Adventure Golf remains open until late, meaning you can play under the stars and take in the beautiful Florida night sky. After playing, stop by the on-site snack bar for refreshments, ice cream, or a hot dog. 
With its charming pirate-themed atmosphere and well-designed courses, this attraction is a must-visit spot for any Orlando visitors. 
Bok Tower Gardens (Near Legoland) 
Do you want to escape the hustle and bustle of Orlando's theme parks? Bok Tower Gardens is the perfect place to unwind and connect with nature. Located just a short drive from Legoland, Florida, the gardens offer a peaceful and serene atmosphere that will leave you feeling refreshed and rejuvenated. 
As you approach the gardens, you'll notice the towering 205-foot-tall Singing Tower, a masterpiece of neo-Gothic architecture. The tower houses a carillon, a musical instrument of 60 bells that create beautiful melodies throughout the gardens. 
Inside the gardens, a breathtaking array of plants and flowers surround you. The gardens cover over 250 acres and include diverse ecosystems, from wetlands to pine forests. Stroll along the paths, take in the sights and sounds of nature, or stop to admire the numerous sculptures and fountains scattered throughout the grounds. 
Save some time to explore the Reflection Pool, which offers stunning views of the Singing Tower. Sit on one of the benches or bring a picnic lunch to enjoy by the water's edge. Are you feeling more adventurous? Hike up to the Pinewood Estate, a historic home that offers tours and special events throughout the year. 
You'll be surrounded by beauty and tranquility whenever you visit Bok Tower Gardens. Leave feeling refreshed and ready to tackle your next adventure. 
Explore Orlando's Outdoors 
Orlando has made a name for its warm weather and beautiful natural scenery. The state's natural beauty can be incredibly refreshing after spending days in the controlled environment of a theme park. The Everglades is an excellent place to start. This vast wetland covers much of Southern Florida. 
Take airboat tours through the swamps, spotting alligators, birds, and other wildlife along the way. You can also explore the numerous hiking and biking trails in the area. Alternatively, you could hire a kayak or canoe to explore the water. 
Head to Harry P. Leu Gardens if you fancy something more low-key. This 50-acre botanical garden features various exotic plants and flowers. The park also hosts regular events and exhibits, making it an excellent option for families with kids. 
A trip to one of the nearby beaches will also deliver a refreshing experience. New Smyrna Beach, Cocoa Beach, and Daytona Beach are all within driving distance of Orlando. Head to your preferred beach to enjoy miles of sandy shores and clear blue water. Whether you want to try surfing, relax on the beach, or paddleboarding, there's something for everyone on the Florida Coast. 
Discover the Local History and Culture 
There's plenty to explore, from museums and art galleries to monuments and historical landmarks, if you want to learn more about Orlando's past. Start with The Orange County Regional History Center. This center offers exhibits and artifacts about Orlando's history and the surrounding area. 
The museum also hosts regular events and programs. The educative workshops and lectures make it an ideal option for families and adults. 
The Kennedy Space Center is another must-see attraction. Located an hour's drive east of Orlando, this center lets you appreciate the history of space exploration. See real spacecrafts and artifacts up close. You can also meet astronauts and other experts in the field. 
The Orlando Museum of Art is a must-visit for art lovers. The museum features a collection of American art and contemporary plus international works. You can also attend one of the regular exhibits and events. 
Experience the Local Cuisine 
No Orlando trip would be complete without trying some of the local cuisines. The city has a diverse culinary scene, from classic American fare to International cuisines. 
Be sure to attend the Orlando Farmers Market if you are in town on a Sunday. Head to the heart of downtown, where you'll find numerous local vendors selling fresh produce, baked goods, and other tasty treats. There are also food trucks and live music, making it a fun and festive way to spend an afternoon. 
You could also explore some of the city's ethnic neighborhoods. Little Vietnam in Orlando is home to diverse Vietnamese restaurants and markets. On the other hand, Little Saigon in nearby Winter Park features numerous Thai, Vietnamese, and Chinese eateries. 
Set aside some time to try some of the city's famous citrus fruits. Many local farmers offer tours and tastings, allowing you to sample everything from oranges and grapefruits to tangerines and lemons. 
Relax and Recharge 
After non-stop theme park action, you might need time to relax and recharge. The city's numerous spas can help you unwind while pampering yourself. The Ritz-Carlton Spa, for example, offers various luxury treatments, including massages, facials, and body scrubs. After a busy day in the theme parks, you could enjoy a sauna or relax in the steam room or relaxation lounge. 
Alternatively, you could spend time at one of the many golf courses. Orlando is home to some of the best courses, many of which offer stunning views and challenging holes. Even if you're not an avid golfer, it can be a fun and relaxing way to spend your afternoon. 
Consider taking a scenic boat tour of the city's lakes and waterways. Companies like The Winter Park Scenic Boat Tour offer guided tours of the local lake, highlighting Orlando's natural beauty and wildlife. 
Explore Orlando Beyond the Theme Parks 
Although Orlando is famous for its theme parks, there's so much more to see and do in this vibrant city. Whether you're interested in exploring the outdoors, sampling the cuisine, or learning about the local history and culture, there's something for everyone in Orlando. So the next time you visit this exciting destination, be sure to take some time to explore all that the city has to offer. 
The city's warm weather and beautiful scenery guarantee a refreshing experience. Be sure to explore the hiking trails and refreshing beaches before heading home. 
Purchase combo tickets to enjoy a tour of the Madame Tussauds Orlando, SEA LIFE, and the Wheel. Buy tickets online to guarantee entry!