Top 10 Interactive Experiences in Orlando
Wednesday August 23rd 2023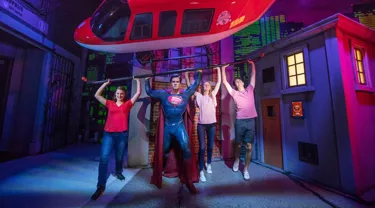 Orlando is known as the world's theme park capital for good reasons. It has some of the best roller coasters and water rides that attract visitors from afar. But besides that, the city is also home to many attractions and sites that offer visitors unique, immersive, and interactive experiences. From thrilling outdoor expeditions to indoor hands-on exhibits, Orlando has tons of interactive experiences to cater to everyone's interests. 
With so many options available, it can be hard to decide which ones to visit. That's why we've compiled a list of the ten best interactive experiences that are sure to give you a fun-filled day of activities and adventure. Whether you're a thrill-seeker, a history buff, or a science enthusiast, there's something on this list that's sure to spark your interest. So, let's dive in and explore the top 10 interactive experiences Orlando has to offer. 

1. Madame Tussauds Orlando
Meeting your favorite celebrity can be fun. But it's even more fun if you can interact with them. Madame Tussauds Orlando allows you to meet some of your favorite stars in the form of wax figures. Not only do you get an up-close look at them, but you also get to interact with them and take photos. 
The Justice League zone at the museum has wax figures of all the members of the iconic superhero team, such as Batman, Superman, Wonder Woman, Aquaman, Flash, and Cyborg. Each of these wax figures is designed in a unique pose as if they're in action. You can join them, pose as they do, and take photos. For instance, you can help Superman lift that helicopter or join Wonder Woman in her power pose. If you dress in superhero costumes, it might even look like you're in the movie with them. 
Besides superheroes, Madame Tussauds has other lifelike figures featuring movie stars, musicians, athletes, and other famous people. They have over 200 wax figures you can interact with, including Maluma, Bad Bunny, Ariana Grande, Dwayne Johnson, Angelina Jolie, and Zac Efron, just to name a few. Some of the wax figures have props you can use to interact with them better and make photos look more realistic. 
The museum can also make a wax hand for you, which you can take home as a souvenir. So if you like celebrities, whether musicians, sports legends, or Hollywood stars, stop over at Madame Tussauds Orlando for an interactive experience.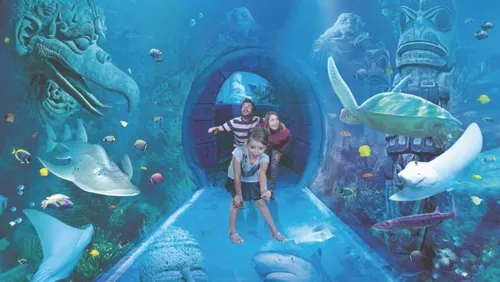 2. SEA LIFE Aquarium Orlando
If you love watching sea creatures in their natural habitat, SEA LIFE Orlando is the easiest way to do that. The aquarium brings the sea closer to you, so you don't have to travel to the ocean. You'll meet a giant octopus at the aquarium, sharks, majestic sting rays, turtles, jellyfish, and thousands of other marine creatures. This destination is ideal for families with young kids aged from 3 to 12 years. 
SEA LIFE Aquarium has the only 360-degree tunnel in Florida that allows you to explore the ocean's wonders from all angles. You can see the belly of the sting ray as they swim gracefully above your head as well as their back when they swim below your feet. You can't get this experience elsewhere unless you're a deep-sea diver. 
The aquarium also allows you to touch and interact with some marine creatures. You can touch sea stars and sea anemones in the Rockpool exhibit. And if you take the behind-the-scenes tour, you can get a chance to feed some of the fish in the feeding frenzy habitat. So if you want to see, learn, and interact with marine creatures, visit SEA LIFE Aquarium in Orlando.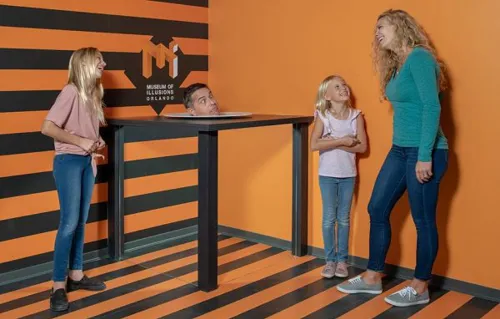 3. Museum of Illusions
Museum of Illusions Orlando is located at Icon Park International Drive, where you'll also find Madame Tussauds and SEA LIFE Aquarium. That makes it convenient for you to visit all these destinations on the same day. As the name suggests, The Museum of Illusions is a place where reality seems confusing. It has many exhibits, each designed to deceive your mind using optical illusions, 3D art, and other tricks that create a non-existent world. 
For instance, the Ames Room exhibit allows you to experience the illusion of growing or shrinking as you move from one side of the room to the other. And the Infinity Room uses mirrors and lights to create the illusion of an endless, kaleidoscopic space. You can take photos inside the room, making it look like you're standing in an infinite, never-ending space. 
In addition to the exhibits, the museum offers interactive games and challenges that test your perception and cognitive abilities. One of the challenges requires visitors to count black dots, which appear to be changing position constantly. The best thing about this museum is its many interactive exhibits. So, if you're looking for a unique, interactive, and mind-bending experience, consider visiting the Museum of Illusions at Icon Park, Orlando.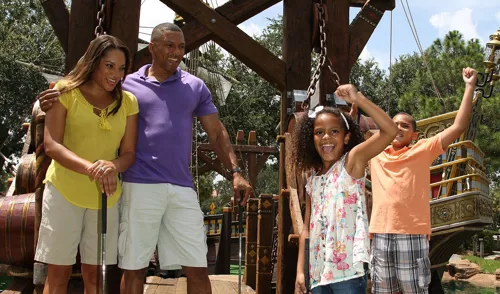 4. Pirate's Cove Adventure Golf
Want to play miniature golf in a pirate-themed environment? If that sounds cool, grab your putter, channel your inner pirate, and get ready for a swashbuckling good time at Pirate's Cove! This mini-golf course is unlike any other, with up to 36 holes of pirate-themed fun that will have you feeling like a swashbuckler in no time. 
The course is beautifully designed, with lush tropical foliage, waterfalls, and even a pirate ship you can putt through. Each hole is unique and challenging, with obstacles like bridges and cannons. The attention to detail is impressive, and it's clear that the creators of Pirate's Cove put a lot of thought into the course's design. 
The best thing about Pirate's Cove is that it's fun for all ages. Whether you're a seasoned mini-golf pro or a first-time player, you'll surely have a great time. It's also a great activity to do with family or friends, as it's a fun way to bond and compete with each other. 
So, if you're looking for interactive activities in Orlando, consider this miniature golf. Remember, you don't have to be a pro to enjoy it. And if you visit Icon Park, this place is only a walking distance from the park. 
5. Fun Spot America
If you're looking for an adrenaline-fueled adventure in Orlando, Fun Spot America is a great place to visit with your family. With two locations in the Orlando area, Fun Spot America offers a variety of rides, attractions, and games that are sure to keep the whole family entertained. 
The park boasts a variety of roller coasters, including the thrilling White Lightning, a wooden coaster that reaches up to 48 mph and features plenty of drops and turns. There's also the Freedom Flyer, a unique coaster that puts you in a flying position as you twist and turn through the air. 
If you prefer more traditional carnival-style rides, Fun Spot America has plenty of those too. One of them is the Enterprise ride, which spins you around in a circular motion while tilting you at a 90-degree angle. Another one is the Paratrooper ride that lifts you high into the air before dropping you back down. There's also a giant swing, a drop tower, and bumper cars for those who want to get in on the action. 
The park also has a Ferris wheel that offers stunning views of the park and the surrounding area and go-kart tracks for all ages and skill levels. So if you love rides, grab your family and get ready for a day of thrilling fun at Fun Spot America. 
6. Gatorland Florida 
With over 2,000 alligators occupying a 110-acre theme park, Gatorland has become the alligator capital of the world. Even though alligators are the main attractions at Gatorland, they also have other animals like snakes, tortoises, birds, capybaras, and wild cats. 
One of the exciting things to see at Gatorland is the Gator Jumparoo Show, where you watch trainers feed alligators while they jump out of the water to catch their prey. It's a thrilling experience that offers a glimpse into the natural instincts of these powerful creatures. 
You can also book a zip-line adventure that takes you over the alligator breeding marsh, offering a unique and exciting view of the park. If you want a more interactive encounter, Gatorland provides an opportunity to handle a baby alligator and even take a photo with one. They also have a petting zoo with goats and sheep. 
The park has many other attractions, including the Aviary, a large bird sanctuary that houses over 200 species of birds. Considering the diverse collection of animals and exciting shows and exhibits, Gatorland is a good destination for families and anyone who loves nature and wildlife. 
7. Kennedy Space Center Visitor Complex
Located on Florida's Space Coast, the Kennedy Space Center Visitor Complex offers a variety of experiences and exhibits that allow you to learn about NASA's space programs and the technology that has made space exploration possible. 
One of the things to see here is the Space Shuttle Atlantis exhibit. This exhibit includes interactive displays, a shuttle launch experience, and a chance to practice docking with the International Space Station. Another popular attraction is the Rocket Garden, which features real rockets from NASA's past missions. You can explore the garden, which includes rockets from the Mercury, Gemini, and Apollo missions, as well as newer rockets like the Falcon 9. 
If you want a more hands-on experience, the Kennedy Space Center Visitor Complex offers several interactive exhibits. The Mars Base 1 exhibit allows you to explore a simulated Martian base and participate in activities like space gardening and robot programming. The Cosmic Quest exhibit is a series of interactive games and challenges that allows you to explore the mysteries of space. 
In addition to the exhibits, you can also take a bus tour of the Kennedy Space Center, which includes stops at the launch pads, the Vehicle Assembly Building, and the Apollo/Saturn V Center. There's so much to see and experience here, making it a must-visit destination for space enthusiasts and anyone interested in the history and future of space exploration. 
8. The Crayola Experience
The Crayola Experience in Orlando is an interactive attraction dedicated to the world of Crayola crayons. It offers over 25 hands-on attractions, from creating your own crayon color to designing coloring pages. You can make personalized crayon labels, sculpt with modeling clay, and use your creativity and imagination to color pages. 
They have an attraction called "Wrap It Up" that allows you to personalize a crayon label and watch as your custom label is wrapped around a crayon. You can also create a marker or crayon with the "Be a Star" attraction. 
Another attraction is the "Meltdown" station which allows you to create a unique wax creation by melting down crayons and molding them into shapes. You can also take a photo of yourself at the "Silly Selfies" station, which is then transformed into a coloring page for you to take home. 
The Crayola Experience has many other interactive experiences, live shows, and demonstrations. Consider paying a visit if you or your kids love coloring.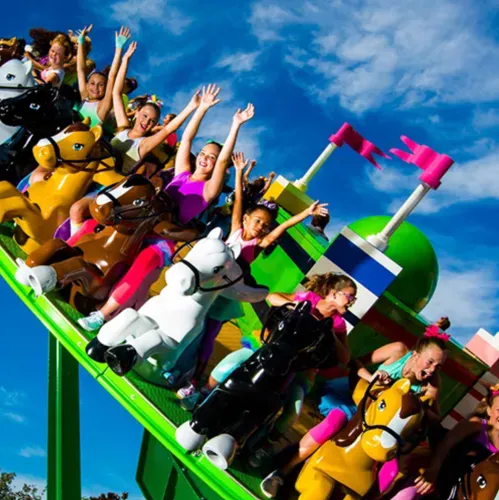 9. LEGOLAND Florida
Located in Winter Haven, LEGOLAND is a family-friendly theme park offering a unique experience for visitors who enjoy building, creating, and playing with LEGO bricks. The park has over 50 rides, shows, and attractions, including roller coasters, water rides, and many interactive experiences. 
Each attraction incorporates LEGO bricks somehow, from the colorful brick decorations to the elaborate LEGO models scattered throughout the park. One of the most interactive sections of LEGOLAND Florida is Build and Test. It allows kids and their parents to design and build their own Lego vehicles and test them on a race track. In so doing, they apply creativity and imagination, making it a fun, bonding moment. 
Kids can enjoy riding the LEGO cars in the driving school and the safari trucks that take them on a trip to see animals made with LEGO bricks. If you want to visit LEGOLAND Florida, consider going early because the park is huge and has plenty to do.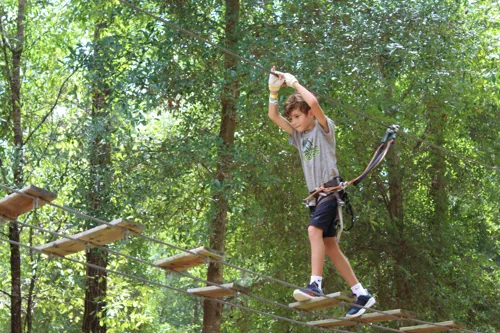 10. Tree Trek Adventure Park
If you're looking for a thrilling experience to pump your adrenaline, Tree Trek Adventure Park has your back. Located in Kissimmee, Orlando, Tree Trek Park features a beautiful forest with ropes courses and challenges like suspended bridges, swinging logs, tightropes, zip lines, and other elements that require balance, coordination, and physical strength to complete. 
They have five courses that vary in difficulty. So whether you're a beginner or an experienced climber, you'll find something that suits your level. The Green Course is perfect for children and beginners because they have the lowest elevation and shorter zip lines. The Blue Course offers more challenge, with higher obstacles and longer zip lines. And the Red and Silver Courses are the most challenging, with obstacles high above the ground and longer zip lines that allow you to soar through the trees. 
In addition to the aerial courses, Tree Trek Adventure Park offers a ground-based course for those who prefer to stay closer to the ground. This course includes a series of obstacles and challenges that will test your balance and coordination. It also has a beautiful natural setting, with stunning views of the surrounding landscape. It's a great place for families, friends, and groups. 
Experience Orlando's Top Interactive Attractions 
No doubt Orlando has plenty of interactive experiences to explore. The above ten are some of the top attractions that you should consider visiting. Five of them are closely located at Icon Park, making it convenient to visit them in one day. Madame Tussauds and SEA LIFE have a combo ticket that can help you save on tickets while visiting the two places. 
In addition, Madame Tussauds gives you a free photo pass once you buy tickets. That means someone will photograph you once you enter the museum, then you can have the picture at the end of your tour. After all, the museum is all about taking photos with celebrities. Visit Madame Tussaud's tickets page to book your visit now. When you pay in advance, you'll have guaranteed entry and save time during admission.