Walk Among the Stars
Wednesday August 23rd 2023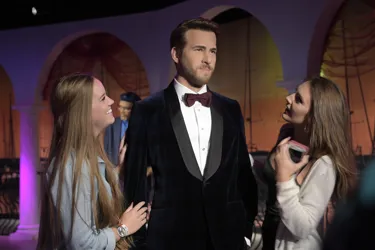 Orlando, Florida, has built a reputation as a tourist destination thanks to the intriguing theme parks and refreshing warm climate. However, the city offers more than this, as is evident at the Madame Tussauds Wax Museum. 
Madame Tussauds is a world-renowned wax museum that offers visitors a unique chance to "walk among the stars." With multiple locations across the globe, this is a must-visit destination. Are you seeking a fun and interactive experience? Madame Tussauds combines art, entertainment, and celebrity culture to deliver endless fun.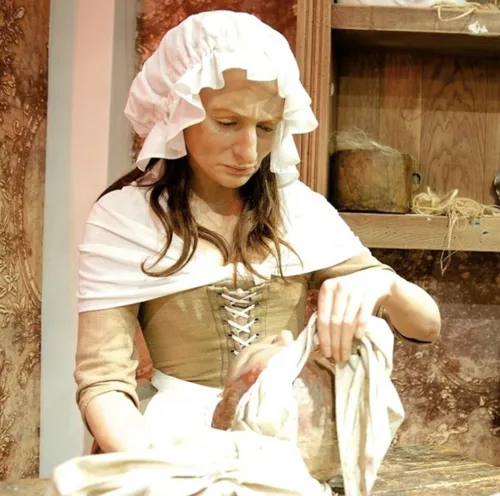 Madame Tussaud's Art and History 
The history of Madame Tussaud dates back to the late 1700s. A young girl named Marie Grosholtz (later known as Madame Tussaud) learned the art of wax modeling from her mentor, Dr. Phillippe Curtuis. Together, they crafted lifelike figures of historical figures and celebrities. 
Today, several international locations house incredible lifelike wax figures of dignitaries and celebrities. You can quickly appreciate the intricacy of the art at a glance. Highly-skilled artists research to understand a subject's public perception before crafting their figures. 
Artists recreate facial expressions, general demeanor, and fashion senses. You'll notice that most figures highlight the finest details. Sometimes, the artists create hairpieces or insert hair strands directly into the figure. 
Madame Tussauds Orlando is located in the heart of International Drive, a popular tourist destination in Orlando. The immersive and interactive museum lets visitors get up close and personal with their favorite celebrities and pop culture icons. 
The collection of lifelike wax figures draws visitors from all walks of life. These figures have incredible detail and accuracy, giving the look and feel of real-life celebrities. You can take selfies with your favorite stars, pose for photo ops, and interact with some figures. 
There's something for everyone, whether you're into sports, music, film, television, or politics. Prepare to meet famous figures like Beyonce, Taylor Swift, Elvis Presley, Walt Disney, and Albert Einstein. Your favorite Justice League superheroes, including Batman, Superman, and Wonder Woman, await you. 
Madame Tussauds Orlando combines technology and entertainment impressively. Visitors often relish virtual and augmented reality experiences that transport them to different worlds and periods. Take a virtual reality trip to the moon, engage in a basketball game against Shaquille O'Neal, or visit the Oval Office.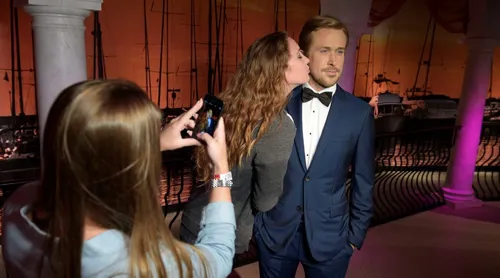 A-List Stars (Zendaya, Ryan Gosling, Ryan Reynolds) 
Join the party of a lifetime alongside the biggest names in Hollywood. Pop the champagne before you rub shoulders with the Hollywood elite. Crack a joke with Ryan Reynolds and sit beside Emma Watson. Angelina Jolie is also ready to share her experiences on set. 
Gaze at Zendaya's elegance and poise. Her wax figure also captures the young actress' stylish outfit and long hair. You'll also meet Ryan Gosling wearing a suit. Take pictures with the figure and feel like you're hanging out with the charming actor. 
The figures' details are incredibly accurate and precise. From the facial figures to the color of the eyes, you can appreciate the work the sculptors put in to achieve these realistic portrayals.  
Check out Madame Tussauds to see more of your favorite celebrities as you walk the red carpet. Pose with Jennifer Aniston, Bradley Cooper, Channing Tatum, Zendaya, and Johnny Deep. You'll also meet famous leading men, including Leonardo DiCaprio, Tom Hanks, Brad Pritt, and Samuel Jackson.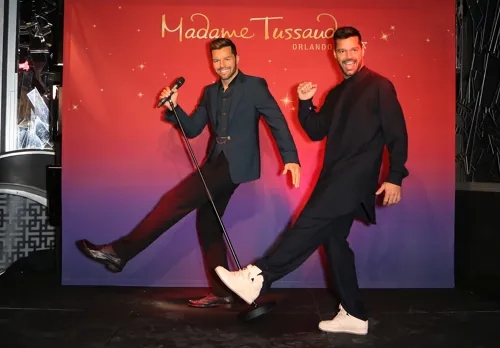 Pop Icons (Maluma, Pitbull, Ricky Martin) 
Learn about the incredible contributions that pop icons have made to the music world. Maluma, the Colombian sensation, has a wax figure that captures his signature style. Best known for his reggaeton beats and charming personality, the singer sports a slicked-back hairstyle and a white Versace suit. 
You'll also meet Pitbull, the Cuban-American rapper who's made a name with his high-energy performances and infectious party anthems. The rapper dons a sleek suit in a figure that captures his larger-than-life persona perfectly.  
Appreciate Puerto Rican music when you meet Ricky Martin. His wax figure captures his good looks and signature dance moves perfectly. Dance with Ricky in a performance that guarantees a fun and interactive experience.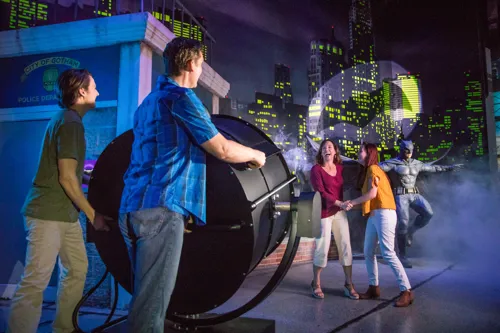 Justice League Heroes (Wonder Woman, Superman) 
Explore the attractive Justice League: A Call for Heroes exhibit. Come face to face with life-sized wax figures of famous DC Comics superheroes. Superman, Wonder Woman, The Flash, and Batman lie in wait. 
Join the ultimate battle as Heroes Unite at the Call for Heroes. Aquaman needs your help to harness the sea's powers. A few strides away, you'll meet Superman lifting a real helicopter. You could also join the Flash as he travels at lightning speed. 
Wonder Woman's wax figure captures her strength and beauty with her iconic outfit and flowing hair. Come prepared to fight crime with Gal Gadot as Wonder Woman. Superman, the Man of Steel and protector of Metropolis, has his classic red and blue suit. His wax figure highlights his chiseled physique and iconic "S" symbol. Shine the bat signal with Ben Affleck as Batman.  
The world's greatest heroes let you unleash your powers in the Justice League section. Superhero fans enjoy incredible fun in this cool area.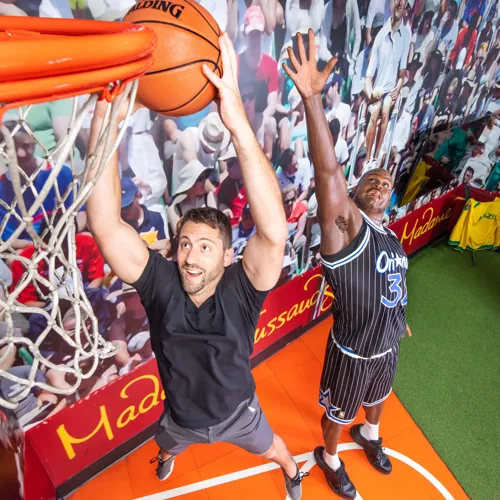 Sports Legends (Shaq, David Beckham, Tiger Woods) 
If you've ever wanted to get close to your favorite sports icons, Madame Tussauds Orlando offers a close enough way to do it.  
The biggest names in sports are ready to share in your celebration dances. Get up close to your sporting heroes before you complete your visit. Meet soccer star David Beckham, or head to the green to take on famous golfer Tiger Woods.  
Spare a few minutes to shoot some hoops with Shaq O'Neal. You'll also pose with Derek Jeter of the New York Yankees.  
Famous tennis star Serena Williams and football players Peyton Manning and Dan Marino are waiting to usher you into the ultimate Hall of Fame. You'll also meet American race car driver Dale Earnhardt Jr. Ensure you participate in the slam dunk competition to know how you'd measure up to Shaq. 
Pose with Mohammad Ali's wax figure that captures his signature fighting stance and intense gaze. Tiger Wood's figure, on the other hand, shows him in his signature red polo shirt, ready to tee off.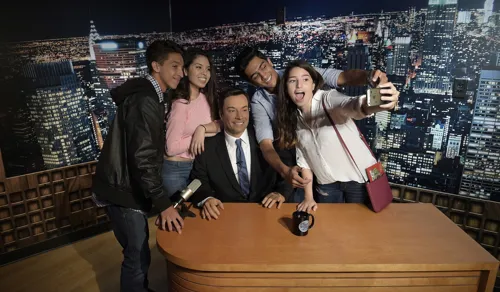 Late Night Hosts (Jimmy Fallon) 
Prepare for a close-up once the camera gets rolling. Madame Tussauds host the biggest TV names ranging from actors to talk show hosts. Enjoy your 15 minutes of fame alongside Neil Patrick Harris or Jim Parsons. 
One of the most famous wax figures at Madame Tussauds is Jimmy Fallon, The Tonight Show host. Fallon's wax figure captures his energetic personality and signature smile. He's dressed in a sharp suit and tie on the replica of The Tonight Show set. Jimmy draws fans from all walks of life and guarantees a memorable experience.  
You could also have a heart-to-heart with Oprah before visiting Patrick Harris on a mock set of How I Met Your Mother.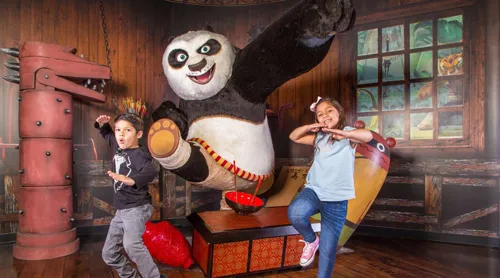 Modern Classics (E.T, Po from Kung Fu Panda) 
The biggest movie names are excited about meeting you! Madame Tussauds' movie set is one for all ages. Interact with actors you admire and characters you love before heading back home. Po from Kung Fu Panda, Audrey Hepburn, and more are all waiting to star with you. 
Madame Tussaud has also immortalized ET… the extraterrestrial from Steve Spielberg's classic film. The figure captures his iconic look with his large eyes and elongated finger. Pose with the friendly alien as you reminisce about the 1980s classic film. 
Relish time spent around Po, the lovable panda from Kung Fu Panda. You'll meet him in his signature kung fu outfit, with his chubby physique and friendly smile. Take pictures with the figure as you feel the sensation of standing alongside the martial arts master. 
Spare time to interact with other modern classics like Shrek. Connect with your favorite characters while you honor their legacy.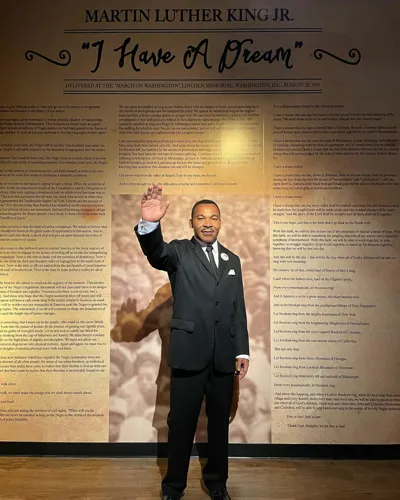 History (Martin Luther King Jr, Abraham Lincoln) 
Explore history beyond the confines of a textbook. Take a walk back in time as you brush shoulders with history's most famous and celebrated leaders!  
Spend time interacting with the world's greatest leaders before booking an appointment with the President in the Oval Office. America's founding fathers, Abraham Lincoln, and George Washington, await you.  
Abraham Lincoln headlines the list of history makers you'll meet here. You'll find the 16th US president seated with a serious expression. Learn about his incredible role in abolishing slavery in the country before you take a photo seated next to him. 
Martin Luther King Jr.'s figure is also close by. You'll meet him in a standing position, with his arms outstretched. Take a photo with the iconic civil rights leader and remind yourself about his powerful speeches, including the famous "I Have a Dream" speech.  
Find your way to Albert Einstein, depicted in a relaxed pose. Learn about the German-born physicist's immense contributions to science. You'll also meet Juan Ponce de Leon, the famous explorer. Appreciate how he led the first official European expedition to Florida. The explorer also served as Puerto Rico's first governor.  
Neil Armstrong's wax figure lets you step on the moon before you pose with Uncle Sam. Catch glimpses of former presidents Barack Obama and Donald Trump before you call it a day.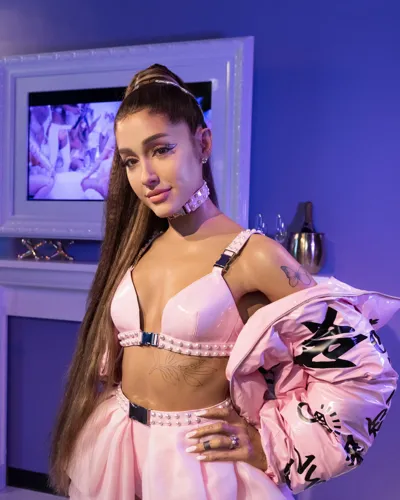 Music Stars (Ariana Grande, Beyonce) 
Madame Tussauds has immortalized some of the biggest names in the music industry through their wax figures. You'll get a chance to get up close and personal with your favorite stars. There are numerous past and present musicians you could pose with.  
Prepare to sing your heart out when you meet the fabulous musicians at the wax museum. Maluma and Elvis Presley highlight the most influential artists you'll find here. Enter the glamorous music world after warming your vocals and finding your mic. 
Most visitors take pictures of themselves alongside Michael Jackson's statue. The King of Pop's wax figure replicates Michael Jackson during his 'Dangerous' era. This realistic figure depicts Michael's signature fedora, white shirt, and black pants. 
You'll also meet Elvis Presley's wax figure modeled after his iconic look from the 1968 Comeback Special. His white jumpsuit gives you glimpses of the "King of Rock. Elvis has a microphone, ready to belt out one of his classic hits. You'll also see his trademark sneer and famous lip curl. 
Millennial visitors will relate better to Beyonce's wax figure, a recent addition to the collection. The figure helps you reminisce about her 2018 Coachella Music Festival performance. Relive this moment of history - she was the first black woman to headline the event.  
Take pictures next to other famous singers, including Selena Gomez, Justin Beiber, Ariana Grande, and Madonna. There's also Pharrell Williams, Cody Simpson, Lady Gaga, and Miley Cyrus. 
Tickets 
The Madame Tussauds tour is normally a self-guided experience, averaging 60 to 90 minutes. You could easily visit the Wheel and SEA LIFE Orlando Aquarium. 
Do you want to add a little extra to your experience? Madame Tussauds offers multiple packages to ensure you get your fill before returning home. Create and customize a wax hand mold and take home these nifty souvenirs after understanding what goes on behind the scenes. 
Get the Madame Tussauds, SEA LIFE, and Digital Photos ticket that offers admission to the world's greatest museum, plus SEA LIFE Aquarium. Both attractions are conveniently located at ICON Park. 
Alternatively, you could opt for a combo ticket to access these attractions and LEGOLAND Florida, about 45 minutes from Orlando. Online bookings guarantee entry.  
Buy tickets online to guarantee admission and get the best price! 
Walk Among the Stars 
Madame Tussauds Orlando offers a unique and unforgettable experience for visitors of all ages. Whether you love sports, music, film, or politics, there's something for you to enjoy in this one-of-a-kind museum. This is the perfect place to go and feel like a celebrity.  
The lifelike wax figures, interactive exhibits, and high-tech features make Madame Tussauds Orlando a must-visit destination for anyone looking to "walk among the stars."