Zendaya Celebrates Unveiling of Two New Figures for Madame Tussauds
Monday November 23rd 2015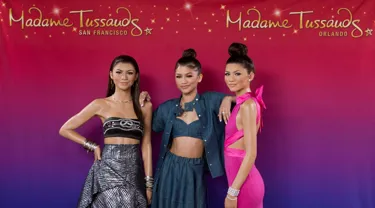 Zendaya Celebrates Unveiling of Two New Figures for Madame Tussauds
Madame Tussauds San Francisco and Madame Tussauds Orlando set to unveil likenesses of accomplished young singer and actress
AN FRANCISCO - Nov. 21, 2015 – Zendaya returned to the Bay Area on the eve of her American Music Awards appearance this weekend to unveil two brand new wax figures from Madame Tussauds. Styled to reflect Zendaya's appearances at the 2014 Teen Choice Awards and 2014 BMI Hip Hop R&B Awards, one figure will remain in Madame Tussauds San Francisco, while the other will be featured at Madame Tussauds Orlando.
Zendaya is best known for her starring role as K.C. Cooper in Disney Channels' "K.C. Undercover," and for the platinum single hit off her 2013 self-titled debut album, "Replay". She is currently working on her second studio album.
With a strong belief in body positivity and individual beauty, Zendaya's impeccable style and confidence has won her wide appeal among teens and young adults. With the launch of her figures, she has joined an exclusive group of celebrities whose figures are a result of extensive requests from fans eager to see their favorite stars immortalized in wax.
"This is a major, major honor and it's so cool to have it in the Bay where I'm from," said Zendaya of the reveal. "This is the best trip ever. I get to be home and be with my people…and also my twins!"
The 19-year-old star met with skilled studio artists in June where she underwent the unique experience of a Madame Tussauds sitting, capturing her expressions, poses, taking more than 250 measurements and matching eye color and hair color. Keen to reflect her own hip and edgy style on both figures, Zendaya donated the pink Material Girl dress, which she wore to the 2014 Teen Choice Awards. For her second figure, Madame Tussauds worked with one of her favorite designers Rubin Singer to recreate the look she wore to the 2014 BMI Hip Hop R&B Awards.
B-roll and side-by-side images will be available via Dropbox. All images are courtesy of Madame Tussauds.
Madame Tussauds is world-renowned for the creation of detailed and lifelike wax figures that pay homage to A-list celebrities from film and television, sports icons, musicians from all genres, and notable figures from history and pop culture. Each Madame Tussauds figure is truly a work of art, involving teams of professional artists and sculptors who spend months on extensive research and take more than 300 measurements to recreate world-famous icons, to achieve the kind of astonishing realism that has been at the heart of the 250-year Madame Tussauds legacy.
Madame Tussauds Orlando has new Florida resident rates, offering attraction admission for $18 ($13 for children between the ages of 3-12). This special offer saves visitors more than 25 percent off regular admission. For a limited time,tickets may be purchased at MadameTussauds.com/Orlando or at the attraction's admissions desk.
This offer is valid for Florida residents, with valid proof of residency, such as a state-issued ID, utilities or cable bill, bank statement, library card, or recent paystub. Restrictions may apply. Prices and hours subject to change without notice. Attraction admission is not guaranteed and subject to availability. The offer is not valid for premium products and cannot be combined with any other offers or packages.
Guests at Madame Tussauds Orlando will experience the essence of America with this brand new, immersive and interactive wax experience, bursting with family fun and world-class entertainment, as they move through themed areas meeting all of their favorite stars from award-winning film actors, to historical and modern world leaders, sports stars, music legends as well as figures important to Florida. All visitors can shake hands with the president, get on stage with rock stars and pop princesses, or get up close and personal with a Hollywood heartthrob and take the ultimate selfie!For more information, visit www.madametussauds.com/Orlando.
BUY TICKETS