Zendaya Figure Coming!
Wednesday November 11th 2015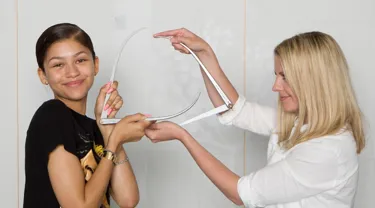 Zendaya Celebrates Unveiling of Two New Figures for Madame Tussauds
Oakland-born singer, actress, and dancer Zendaya will return to the Bay Area to unveil not one, but two new wax figures at Madame Tussauds San Francisco on Nov. 21. The second figure will be featured in Madame Tussauds Orlando. By unveiling two figures, Zendaya shares a unique honor with an exclusive group of celebrities who have received an outstanding number of fan requests for their figures to be featured in multiple Madame Tussauds attractions.
The 19-year-old star met with skilled studio artists in June where she underwent the unique experience of a Madame Tussauds sitting, capturing her expressions, poses, taking more than 250 measurements and matching eye color and hair color. Keen to reflect her own hip and edgy style on both figures, Zendaya donated the pink Material Girl dress, which she wore to the 2014 Teen Choice Awards. For her second figure, Madame Tussauds worked with one of her favorite designers Rubin Singer to recreate the look she wore to the 2014 BMI Hip Hop R&B Awards.
"Working with the Madame Tussauds team was such an amazing honor, they really took the time to capture every detail, including all the natural features that make up the real me," said Zendaya. "It feels even more special to know that my beautiful fans worked so hard to make this happen and I'm excited to see how they will react to my new figures in San Francisco and Orlando."
Known for her starring role as K.C. Cooper on the hit Disney Channel show K.C. Undercover, Zendaya's outspokenness about one's ability to accept and love themselves has made her a spokesperson for body acceptance and individual beauty.
Zendaya previously co-starred on Shake It Up, another Disney Channel series for three seasons as well as several Disney Channel original movies. She was the youngest contestant on ABC's Dancing with the Stars for its 16th season and finished in second place with dance partner Val Chmerkovskiy. She is currently working on her second studio album, a follow-up to her self-titled debut album released in 2013.
Named one of TIME Magazine's Most Influential Teens of 2015, Zendaya has led discussions on body positivity and wider perceptions of female beauty through her graceful responses to controversial comments on her Oscar appearance, and more recently, challenging a magazine for its extensive photo retouching of her image. With a social media presence that won her the 2014 BMI Social Star Award, Zendaya is an empowering, inspiring icon for young people everywhere.
BUY TICKETS