MADAME TUSSAUDS SINGAPORE UNVEILS LIFELIKE FIGURE OF CRICKET ICON VIRAT KOHLI AMIDST ICC MEN'S CRICKET WORLD CUP
Monday 16th October 2023
Madame Tussauds Singapore
New Figure, Virat Kohli, Cricket, Sports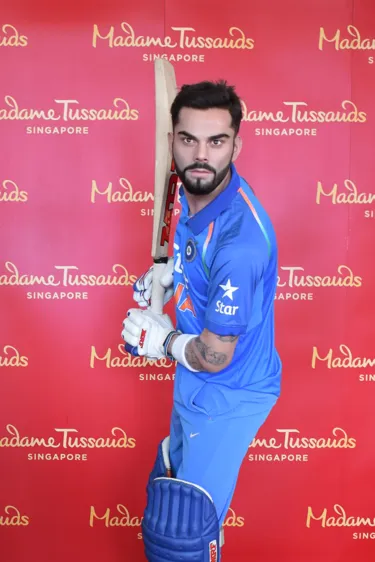 Madame Tussauds is thrilled to announce the latest addition, the incredibly lifelike wax figure of cricket superstar Virat Kohli, amidst ICC Men's World Cup 2023.
Widely regarded as one of the greatest contemporary batsmen in international cricket, Kohli is known for his exceptional batting skills, masterful leadership, and fiery on-field personality. He made his debut for the Indian cricket team in 2008 and has since been one of the most important players that help to reinforce India's status as one of the world's top cricketing nations.
Steven Chung, General Manager at Madame Tussauds Singapore, said, "We are proud to add Virat Kohli's figure to our line-up of sporting icons. His unwavering commitment to excellence, coupled with his charismatic personality has earned him a special place in the hearts of millions. Kohli fans around the world can now come to Madame Tussauds Singapore to connect with their hero on a whole new level and feel his aura!"
This extraordinary figure, meticulously crafted by a team of skilled artists, will provide fans and visitors with a unique opportunity to get up close and personal with one of India's most beloved sports icons. Kohli said, " "I sincerely appreciate the efforts and incredible work undergone in making my figure. Thanks to Madame Tussauds for choosing me for this lifetime experience. I am grateful to my fans for their love and support."
Dressed in his official Indian cricket kit donated by the sportsman himself, Kohli's figure can be found in the Sports Zone, where he will stand alongside legends such as Ronaldo, Yao Ming and fellow cricketer, Sachin Tendulkar.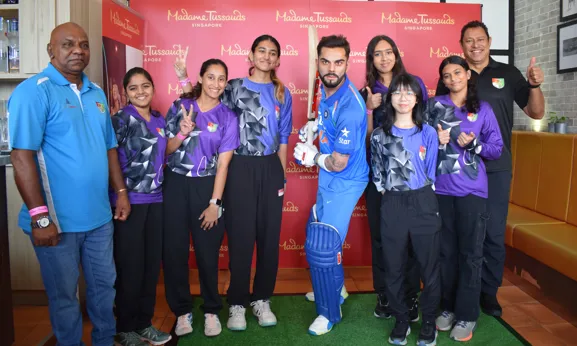 "We are thrilled to be part of a modern day great having his launch in Singapore. Virat Kohli is a symbol of strength, character and skill all rolled into one," said Singapore Cricket Association's President Mr Mahmood Gaznavi. Members and players from the Singapore Cricket Association were one of the first to witness the unveiling right before the ICC World Cup match between India and Pakistan.
Madame Tussauds is committed to delivering an unforgettable experience for its visitors, and the inclusion of Kohli's figure is a testament to the attraction's dedication to representing icons from various fields. Fans can purchase their tickets at www.madametussauds.com/singapore/, and witness the craftsmanship and artistry that have gone into creating this remarkable tribute to one of India's cricketing legends.
Explore Madame Tussauds Singapore Sports Zone
This is your chance to come face to face with the world's biggest sports stars up close. Feel the adrenaline rush of meeting Yao Ming and football stars Cristiano Ronaldo & Fandi Ahmad