6 Totally Awesome Teenager Activities in Sydney
Friday 6th December 2019
things to do, sydney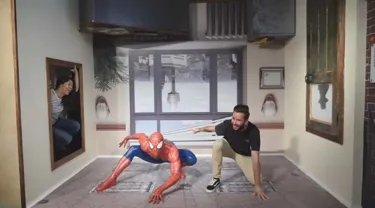 Looking for awesome things to do in Sydney with teenagers? From meeting comic book heroes to spinning music tunes, discover why visiting the iconic Madame Tussauds attraction in Sydney is your easy go-to.
Tussauds For Teenagers
It's time to let your hair down, laugh, play, and have a bit of an adventure together. The interactive Madame Tussauds Sydney experience is filled with family bonding moments: roleplaying, ice-breaker conversations, teamwork, awesome games and heaps of cool selfies! Let your teens take the lead and follow them with enthusiasm. Experiencing all these fun teenager activities, you'll be sure to learn a new thing or two about each other too.
Play With the Rich and Famous
You've watched all their movies. You've heard all their songs. But it's something else when you see celebrities in real life! Madame Tussauds' remarkable wax figures of local and international actors, singers and other icons, look crazy-realistic, so be prepared to be star-struck. Rub shoulders with the heartthrob Hemsworth brothers. Sing and dance with millennial pop-stars Justin Bieber and Taylor Swift. Or throw some kung-fu moves with legendary Jackie Chan. Together as a family, you get to ignite magical film and music memories.
Make Like the Queen
Everyone's got a little crush on The British Royals. At Madame Tussauds' Royal Academy, learn to walk, talk and dress just like Queen Elizabeth II, Prince William, Catherine, Prince Harry and Meghan. Curtsy like a lady, do the royal wave, get your plumb-mouthed English accent on and try on different hats. And if you haven't had a family portrait in a while, now's the time – with the Royals!
Join the Justice League
DC Comics' all-star cast of superheroes has landed in Madame Tussauds Sydney for incredible hi-tech adventures. Wonder Woman, The Flash, Aquaman, Cyborg, Superman and Batman, are calling out for help to save the world. Are you strong enough to lift a helicopter? Are you able to harness the full power of the seas? Bring your courage, cheer each other on and conquer away. That'll keep hard-to-please teens, yawn-free!
Hangout with Spiderman
Web-slinging, witty and super relatable. Stand-out superhero character, Spiderman, has been in the hearts of many teens and tweens for decades. At Madame Tussauds Sydney, have your own 'upside-down kiss' moment or hang off the ceiling in true Spidey style. Don't forget to #TussaudsSydney.
Drop a Tune on the DJ Decks
That's right, party with the hottest local and Hollywood celebs as the raddest music spins. Down the red carpet, you'll meet the glamorous likes of Nicole Kidman, Cate Blanchett, Delta Goodrem and more. Dance, improvise, impersonate; the key here is imagination and fun.
Bring out Your Fashionista
Mmm-hmm work it, girl!Try on the season's latest threads and strut down the catwalk like a real supermodel. Or why not get a digital makeover and practice your best pose for the front cover? In this glitzy zone, come-up close with beautiful supermodels turned fierce businesswomen, Megan Gale and Miranda Kerr.
When it comes to teenager activities, Madame Tussauds Sydney has you covered.