CRIKEY! Crocodile Hunter Steve Irwin Has Arrived at Madame Tussauds Sydney
Tuesday 11th August 2015
steve irwin, new figure, crocodile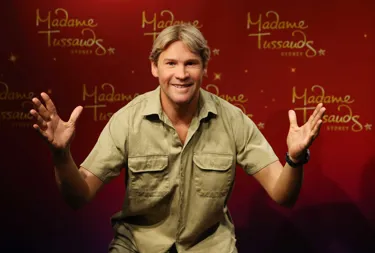 For the first time ever, Crocodile Hunter and Aussie icon Steve Irwin has been honoured with a wax figure at Madame Tussauds in Sydney.
Visitors are invited to lace up their explorer boots, because from Wednesday 12th August 2015, visitors to Madame Tussauds Sydney in Darling Harbour will be able to go on an adventure into the Australian Outback with iconic conservationist and crocodile hunter – Steve Irwin.
With the gorgeous Uluru landscape as the backdrop for the adventure, kids and adults alike can come face-to-face with the international icon as they handle a snake and even don the iconic green Khaki outfits we all remember Steve Irwin wearing!
Yes, you heard us right! We will be running Reptile Encounters from 11am – 12pm every day for the 2 week launch of Steve Irwin. Encounters are just $20 per person, all you need to do is find Steve and you'll find the fun!
Steve Irwin is set to become a permanent feature in our television zone, Steve Irwin's wax figure will pay tribute to his life and legacy – amongst what he was highly respected and well known for – the Australian Outback and bringing awareness to unique Australian animals.
Steve Irwin is joining the already highly established list of iconic Australian personalities at Madame Tussauds Sydney all on display under the one roof including Kylie Minogue, Paul Hogan, Nicole Kidman and Hugh Jackman.
For the best fun in Darling Harbour (and the rest of the city), check out our best Sydney attraction pass and get entry to 5 of Sydney's best family fun destinations for the price of 3!