Welcome to the Party, Harry and Meghan!
Thursday 11th June 2020
harry, meghan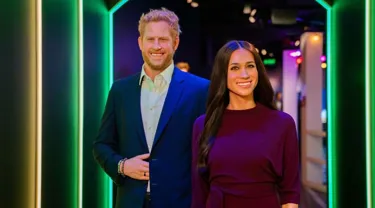 Ever since Harry and Meghan stepped away from their Royal duties and moved with baby Archie to Beverly Hills - surrounded by A-listers and miles away from any Royal protocol - it hasn't felt right that their wax counterparts were still residing in the Royal Academy. 
This week Harry and Meghan therefore packed up and moved to our Party Zone, and as they are now surrounded by celebrity neighbours including Adele, Nicole Kidman, Katy Perry, Elton John and more, it was only fitting that they were given a warm A-list welcome party by their celebrity friends (Nicole Kidman even showed up!).
With a red carpet entrance they mingled with their guests, popped some champagne and toasted to their new chapter together. They are also sporting new looks…the tie has come off, there's a new dress, the hair has come down and Harry and Meghan are settling in very well to their new address. 
But never fear, the couple still have a strong connection to the Royal family and are only down the corridor from the likes of Queen Elizabeth and the Duke and Duchess of Cambridge, HRH Prince William and Catherine.
You can visit Meghan and Harry in the Party Zone at Madame Tussauds Sydney which is now open to guests, and don't forget that the sporting heroes, superheros and even Bollywood superstars also can't wait to see guests again.