New "Babylon Berlin" area at Madame Tussauds Berlin
Monday August 14th 2023
Madame Tussauds, Madame Tussauds Berlin, Babylon Berlin, Berlin, X Filme, X Filme Creative Pool, Meret Becker, Liv Lisa Fries, Volker Bruch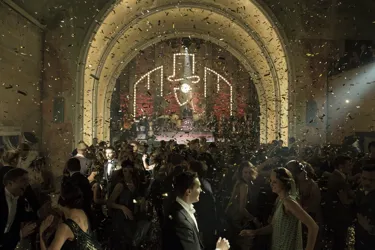 Get ready for "Days Like Gold" at Madame Tussauds Berlin!
The famous wax museum is opening a brand new area on 28 September that has a very special connection to the capital. A total of three wax figures will be unveiled in the new "Babylon Berlin" area. Together with the production company X Filme Creative Pool, Madame Tussauds Berlin is creating a new area for the multi-award-winning German crime series "Babylon Berlin".
Just in time for the free-TV premiere of the 4th season in the ARD Mediathek (from 29 September) and on TV at Das Erste (01 October, 20:15), guests and fans can travel to the golden era of Berlin's underground scene and relive the dazzling, dissolute joy of life of the Golden Twenties in the "Babylon Berlin" bar. Fans can look forward to a meeting with familiar characters from the series. Three characters from the cast will be immortalised in wax: Volker Bruch as Inspector Gereon Rath, Liv Lisa Fries as crime assistant Charlotte Ritter and Meret Becker as film actress Esther Kasabian. As early as autumn 2022, the three actors were measured and photographed during a sitting so that perfect likenesses of the artists could ultimately be created. Liv Lisa Fries, Meret Becker and Volker Bruch were allowed to determine the pose and facial expression themselves.
"In addition to dark and tragic moments, the series 'Babylon Berlin' also stands for excessive joy of life and colourful party scenes. We want to live out this mood in the new area, including a functioning bar," says Nadja Troublefield, General Manager of Madame Tussauds Berlin. In addition to classic soft drinks, special signature Babylon cocktails will also be mixed.
Stefan Arndt, Uwe Schott and Michael Polle, producers from X Filme Creative Pool, add:
"The enthusiasm that 'Babylon Berlin' has triggered worldwide since its premiere is extraordinary. It is all the more an honour and distinction for all of us from the Babylon team that the world of our series is now being brought to life for fans here in Berlin by a traditional brand like Madame Tussauds. But our thanks also go to our great actors who have supported this idea from the very beginning."
The renovation work is already in full progress. The "Babylon Berlin" area will be opened on 28 September in the course of a big celebration. Liv Lisa Fries, Meret Becker and Volker Bruch will be there to personally unveil their characters at Madame Tussauds Berlin. In addition to the three artists, other actors and parts of the production team are also expected to attend the celebration.