Now you can experience a brand new, interactive football area that turns part of our exhibition into a giant football stadium. Here you can experience real stadium feeling with all your senses. Compete against your football heroes from the past and present and show everyone what you can. You should not miss this! That will be your moment!
Joshua Kimmich
Show your skills in the penalty shootout or kick the ball with Kimmich.
Madame Tussauds Berlin, Football stadium
Manuel Neuer
Meet the world champion and world goalkeeper in our football area in one of his typical player poses and experience your unique goalkeeper scenario
Madame Tussauds Berlin, Football stadium
Lionel Messi
Experience Lionel Messi's latest wax figure live with us.
Madame Tussauds Berlin, Football stadium
Uwe Seeler
Meet one of the best strikers in German history and pose next to him and the first World Cup trophy from 1954 in our football field.
Madame Tussauds Berlin, Football stadium
Oliver Kahn
Meet the goalkeeper legend and experience your individual goalkeeping scenario in our football area. Can you keep up with him? Try it out!
Madame Tussauds Berlin, Football stadium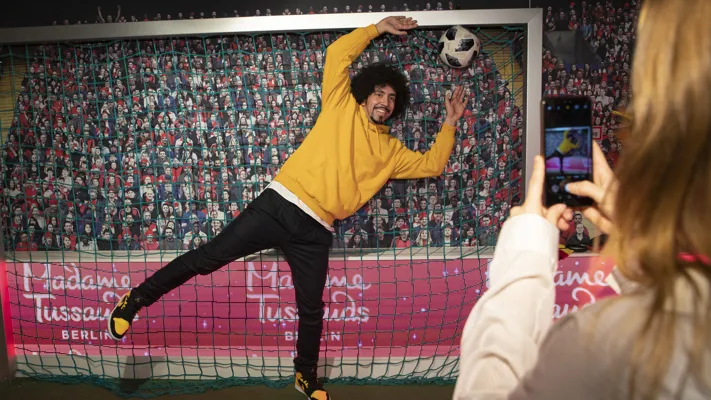 Football is coming home!
In this area it gets really sporty. Are you ready to compete against the football legends of past and present in Madame Tussauds Berlin?
Here you can enter the new football area on the side of the best Argentine soccer player Lionel Messi through a stadium tunnel. Experience a real singalong with fan chants, player memorabilia and football grass scent. What a pure stadium feeling.
You can also become a ball artist at the speed kicker and train next to Joshua Kimmich, Manuel Neuer and Oliver Kahn at the goal wall. After the final whistle, you will be able to become a competent discussion partner in the stadium studio alongside Jürgen Klinsmann and Franz Beckenbauer. Celebrate this with the waxy football legend Uwe Seeler and the World Cup trophy in 1954.