Madame Tussauds Berlin, Awards Party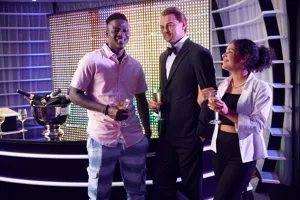 Interesting facts about Leonardo DiCaprio
Leonardo DiCaprio achieved his breakthrough with the film "Titanic" (1998), which was awarded eleven Oscars.

His famous movie quote from Titanic "I am the king of the world!" was not part of the original script. Leonardo improvised this line.

He won his first Oscar for his role in the movie "The Revenant" (2015).

This is DiCaprio's second character. After the first wax Leo had to be removed from the exhibition due to irreparable damage, there was still so much demand for it that our studios in London produced a completely new figure.