Madame Tussauds Berlin, Culture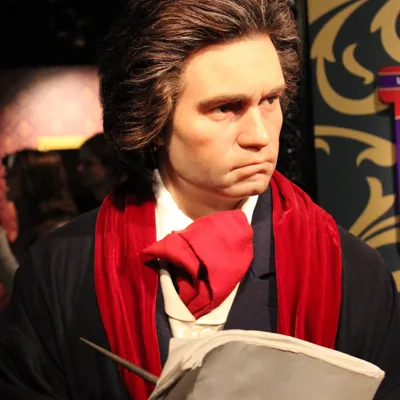 Did you know?
Ludwig van Beethoven was a German pianist and composer. He brought the epoch of Viennese classical music to its peak and paved the way for Romanticism. Beethoven has lived up for his claim to leave a lasting musical work for posterity. Even nowadays, he is one of the world's best-known composers and one of the world's most famous Germans. His music has proved to be timeless since even those who do not have direct access to classical music know the famous 'Ta Ta Ta Taaaa' intro of the 5th Symphony. The records of Ludwig van Beethoven's life are scarcely handed down by letters and correspondences, so authors who tried to write his biography always come to quite different results and interpretations.
Ludwig van Beethoven was born in Bonn and received his violin lessons from his father, who was a musician as well. At the beginning of his career, he first made a name for himself as a piano virtuoso. The free improvisation and fantasizing on the instrument belonged to his strengths. Later he was taught by the organist Christian Gottlob Neefe and had his first performances. At the age of 17 he traveled to Vienna to meet Mozart. However, due to the death of his mother, he had to return to Bonn a short time later and supported his family. In 1792, he was invited by the composer Joseph Haydn to Vienna, where his talent soon led him to the highest social circles in the Habsburg metropolis and he enjoyed great success in the next few years. His doctors diagnosed deafness, which would end in numbness because of its incurability. This diagnosis led to a socially retired life and ended his career as a pianist prematurely. However it did not prevent him from creating further compositions.
In addition to his nine symphonies, which are most prominent in his extensive concert work, he wrote numerous piano pieces, string quartets, several overtures, an opera 'Fidelio', the Missa solemnis and numerous chamber music works. The setting of Friedrich Schiller's 'Ode to Joy' in the ninth symphony became one of the best known works of classical music. At Madame Tussauds Berlin, you can now meet the great artist as his wax figure. Secure your Madame Tussauds Berlin tickets now and prove your talent at the piano next to the wax figure of Ludwig van Beethoven.